Donate to Win
SOG Studies and Observations Group "Professional" Package
Total Retail Value:
$559.75
Donated By:
SOG Studies and Observations Group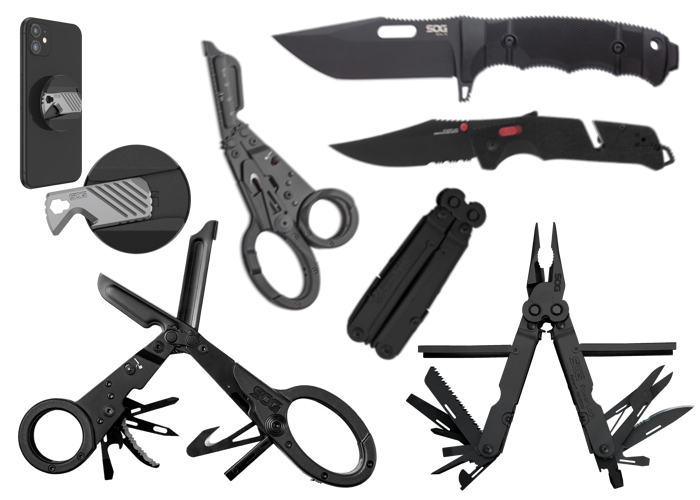 Our friends at SOG Studies and Observations Group have assembled a very useful set of their latest professional tools

SEAL FX Tanto - USA Made ($274.95) The latest advancement in our line of SEAL fixed blade knives, SEAL FX is built with extensive feedback from professional users. American-made, with S35VN steel and a tough glass reinforced nylon handle. Including a customizable kydex sheath, SEAL FX is the professional's go-to solution for fixed blades
Blade Length: 4.30"
Overall Length: 9.20"
Weight: 6.6 oz.
Blade Steel: S35VN
Finish: Black Cerakote
Handle: GRN
Sheath: Kydex
Country of Origin: USA
Trident AT - Black & Red, Serrated ($99.95)  A folding knife designed for professional users, Trident AT features rapid assisted opening with SOG's innovative ambidextrous AT-XR Lock, as well as integrated line cutter and glass breaker. Trident AT is easy to carry, with a highly functional 3.75" cryogenically heat-treated D2 stainless steel blade. Its powerful AT-XR locking mechanism also features built-in blade locking safety and spine-mounted safety system. The next evolution of the field-proven Trident pocket knife.
Blade Length: 3.70"
Closed Length: 5.33"
Overall Length: 9.03"
Blade Material: D2 Tool Steel
Blade Thickness: 0.12"
Blade Finish: Black Titanium Nitride
Handle Material: Black Glass Reinforced Nylon
Locking Mechanism: AT-XR Lock
Pocket Clip: Deep Carry Stainless Steel (Tip-Up, Right/Left Carry)
Weight: 5.15 oz.
Made in Taiwan
ParaShears - Black ($79.95) A focused multi-tool designed specifically for first responders, ParaShears come complete with a mission-specific toolset that features 11 components, including shears, strap cutter, glass breaker, oxygen wrench and tweezers. Leveraging SOG's proprietary Compound Leverage technology, ParaShears are able to cut through material easier and quicker than equivalent shears. Capable and reliable, the ParaShears are a multi-tool designed for rapid, precise work under the most stressful conditions in medical applications.
Features SOG Compound Leverage with unrivaled cutting power, made with autoclave compatible materials, Nylon sheath for easy carry open or closed
11 Tools
Inch and Millimeter Rulers
Shears
Line Cutter
Glass Breaker
Tweezers
1 Phillips
Bottle Opener
Medium Flathead Awl
Rope Cutter
O2 Wrench
Specifications
Overall Length: 7.30"
Weight: 4.8 oz.
Blade Steel: 3Cr13 Stainless Steel
Color: Black
Handle: GRN and Stainless Steel
Sheath: Nylon
Made in China
PowerLock Black, Scissors, Nylon Pouch ($79.95) Using the proven PowerLock chassis, SOG is the only company to apply Compound Leverage technology to EOD (Explosive Ordnance Disposal). This makes it a breeze to crimp blasting caps and demolition cord with less hand pressure. Another unique SOG feature is the positioning of the crimper device within the confines of the handle...not in the plier jaw, like all other designs. This serves to minimize collateral damage to the crimper and allows the operator to have full use of the uninterrupted plier surface. Additionally, there is no weakening of the pliers that often causes breakage of the plier tips. The crimper produces non-flaring, high pull out strength crimps that meet government fuse well specifications. Also includes hard wire cutter.
Features:
Compound Leverage™
One-handed flip opening and closing
Removable comfort hand grips
Piano locks
Nylon pouch
Low reflective Black Oxide coating
100% stainless steel
Made in the U.S.A.
Lifetime warranty
Component List:
Pliers/Grippers
Wire cutter
Blasting cap crimper
Foldable 1/4" socket drive
Spring-loaded scissors
Partially serrated knife
Phillips screwdriver
Small/medium/large screwdrivers
Three-sided file
Bottle/can opener
Double tooth saw
Lanyard ring
Awl
Ruler
Open length: 7"
Closed length: 4.6"
Weight: 9.6 oz
PopGrip Multi-Tool - Black + Graphite ($24.95)  SOG collaborated with PopSockets to bring this innovative multi-tool to the back of your phone. PopGrip Multi-Tool puts a bottle opener, pry bar, hex bit driver and small screwdriver on the back of your phone and at your fingertips. The PopGrip pulls double duty as a phone grip and stand