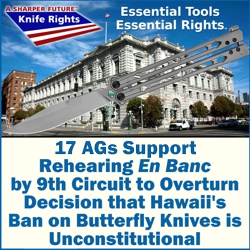 Led by California Attorney General Rob Bonta, 17 Attorneys General have filed an amicus (Friend of the Court) brief supporting Hawaii's petition to the Ninth Circuit for a rehearing En Banc in an attempt to overturn the recent 3-0 panel decision in Teter v. Lopez that Hawaii's ban on Butterfly Knives is unconstitutional under the Second Amendment.
This amicus brief by 17 anti-Second Amendment AGs just adds an exclamation point to how important this knife-related 2A case is in the larger battle for the Second Amendment. It is rather ironic, and quite hypocritical, that of the 17 AGs, ten represent states in which butterfly knives are legal to possess and another three represent states where they are legal with some restriction.
Joining California's AG are AGs from Arizona, Colorado, Connecticut, Delaware, Illinois, Maryland, Massachusetts, Michigan, Minnesota, New Jersey, New York, Oregon, Pennsylvania, Rhode Island, Washington, and the District of Columbia.
As explained in our original post, this was a huge win not just for owners of Butterfly Knives in Hawaii, but for all pro-Second Amendment supporters. Knife Rights filed an important amicus (friend of the court) brief in support of the appellants in that case.
The AGs' Amicus Brief is just as intellectually dishonest as the petition for rehearing en banc. Truthfully, it would be a shock if the en banc petition was not granted. Thus, we will join with our friends and file an amicus brief opposing the reversal of the three-judge panel decision once the rehearing en banc process starts up to ensure that on an appeal, all the necessary issues have been raised and refuted.
If you want to read about just how anti-2A the Ninth Circuit is, read this article: Ninth Circuit Puts its Finger on the Scale to Delay, Derail California Magazine Ban Challenge. We don't expect anything different from the en banc court in this case. Nevertheless, we will continue to do what is necessary to try to ensure these lower courts abide by the explicit directions of the United States Supreme Court in Bruen.
Please make a TAX-DEDUCTIBLE donation to the Knife Rights Foundation to support our effort: https://kniferights.org/donate/
Knife Rights is America's grassroots knife owners' organization; Rewriting Knife Law in America™ and forging a Sharper Future for all Americans™. Knife Rights efforts have resulted in 44 bills repealing knife bans in 28 states and over 175 cities and towns since 2010.