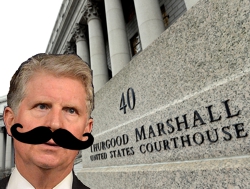 Meanwhile, DA Vance's efforts to abuse to his benefit a foundational principle of jurisprudence and roll back the clock to continue to victimize knife owners was halted for the moment by the United States Court of Appeals for the Second Circuit. They denied his motion to vacate, on the ground of mootness, a District Court decision declaring the "wrist flick" test unconstitutional, forcing him to an appeal on the merits which will be heard along with his mootness arguments. They also accepted an Amicus Brief by Knife Rights and Legal Aid Society arguing against that motion being granted, apparently to good effect.
Click here to review the issues in this case.
Click here to read the Court's Order.
The Fight Isn't Over!
Legal expenses continue. Please make a TAX-DEDUCTIBLE contribution to support our legal fight against this abuse of government power.