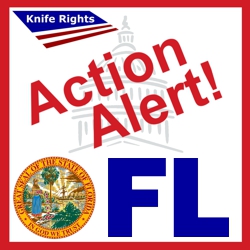 Knife Rights supported Florida Constitutional Carry bill, HB 543, which includes knives, will be heard by the House Constitutional Rights, Rule of Law & Government Operations Subcommittee on Tuesday, February 7th.
If you are a Florida resident, please use Knife Rights' Legislative Action Center to email committee members to support HB 543 https://kniferights.org/resources/congressweb/#/56
Knife Rights supports Constitutional Carry and particularly bills such as this that rid the state of its ban on concealed carry of knives (other than a "pocket knife") without a permit.
Knife Rights is America's grassroots knife owners' organization; leading the fight to Rewrite Knife Law in America™ and forging a Sharper Future for all Americans™. Knife Rights efforts have resulted in 40 bills enacted repealing knife bans in 26 states and over 150 cities and towns since 2010.