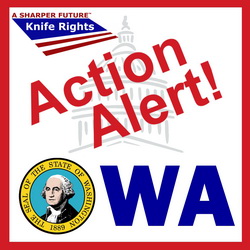 NOTE:  Unfortunately, once again our efforts were thwarted as Feb 15th passed without a House vote on the bill. We will be back next session for another go at getting this done. 
The Washington House Committee on Civil Rights & Judiciary voted 12-5 with a "do pass" recommendation for our bill to repeal Washington's civilian ban on "spring blade" (automatic) knives, HB 1224. We appreciate Chairman Drew Hansen's support in bringing this bill to a vote.
Knife Rights was pleased to work with Chairman Hansen and sponsor Rep. Kelly Chambers to amend the bill to address committee concerns. With the removal of "spring blade" knives from the definition of "dangerous weapons," the amended bill ensures that they would continue to be banned from schools, childcare facilities and similar places where under existing statute they are banned as "dangerous weapons."
If you are a Washington resident, please use Knife Rights' Legislative Action Center to email your Representative to vote yes on HB 1224. To easily send an email go to: …
DO IT TODAY and help us push this bill forward! Please pass this email along to anyone in Washington state who can help. The more emails from Washington residents that we generate, the better.
In 2012 Washington law was changed to allow civilian possession and carry of assisted-opening knives and the manufacture and distribution of automatic knives and expanded possession and carry to first responders and military members. For the past decade we have worked to eliminate the remaining ban on "spring blade" knives, getting very close on occasion, but not yet done. HB 1224 continues our fight to repeal this irrational ban.
Knife Rights had led the effort to repeal switchblade bans or restrictions in 18 states, starting with New Hampshire in 2010. Repeals have since been enacted in Alaska, Colorado, Illinois, Indiana, Kansas, Louisiana, Maine, Michigan, Missouri, Montana, Nevada, Ohio, Oklahoma, Tennessee, Texas, Washington and Wisconsin.
Altogether, Knife Rights' efforts have resulted in 34 bills enacted repealing knife bans in 23 states and over 150 cities and towns since 2010.