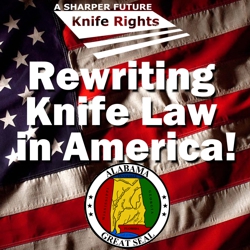 Alabama's Constitutional Carry bill is now in effect, including repeal of restrictions on the carrying of a Bowie knife or a concealed knife.
WARNING: Local jurisdictions may still restrict or ban knives. Knife Rights looks forward to working to enact its signature Knife Law Preemption going forward in Alabama. This would void those restrictions and bans and prevent any being put in place in the future. To find local knife restrictions go to: https://kniferights.org/how-to-find-local-knife-laws/ or download Knife Rights' LegalBlade App.
WARNING: Remaining in Alabama statutes is this prohibition: Any person who sells, gives or lends to any minor any pistol or bowie [sic] knife, or other knife of like kind or description, shall, on conviction, be fined not less than $50.00 nor more than $500.00.
Knife Rights deeply appreciates sponsor Representative Shane Singer's including these knife ban repeals in this bill. Knife Rights supports Constitutional Carry and particularly bills such as this that rid the state of knife bans.
Altogether, Knife Rights' efforts have resulted in 40 bills repealing knife bans signed into law in 26 states and over 150 cities and towns since 2010.