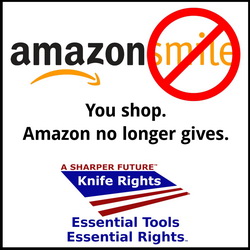 On February 20th, Amazon is ending its Amazon Smile donation program for non-profits that has been a very successful program for the Knife Rights Foundation. Doing so will likely save them millions and, perhaps as important, allow them to donate to programs they prefer and for which donations they can gain more publicity for themselves and their preferred causes. It no doubt annoyed them no end to fund numerous 501(c)(3) organizations which were anathema to their woke culture.
As a parting donation, they will donate a sum equal to one quarter's worth of 2022 donations. We're happy to get it, but with, essentially, four months notice, after many non-profits already completed their budgets, including us, this will make it a very difficult transition for many.
While they claim as justification for cancellation that the average non-profit received just $230 due to the large number of organizations that participants named to receive funds; that is a terribly misleading number.
Knife Rights Foundation received thousands of dollars over the life of the program and that was very significant money to us. I know of small non-profits for which even the modest donations from Amazon Smile were a big deal. Many others have reported that Amazon Smile quickly became their largest single donor when they successfully encouraged their supporters to use Amazon Smile to raise funds for their programs. The pandemic only served to increase those donations. Those non-profits are taking a substantial hit. Some non-profits started distinct programs based on that funding and this cancellation will be hard on them.
We never did that. The Knife Rights Foundation will persevere despite this funding loss. We sincerely appreciate and give thanks to all of our supporters who selected the Foundation as their Amazon Smile donation recipient. Together we will continue to forge a Sharper Future for all Americans.