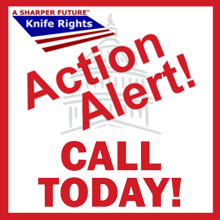 Knife Rights' Michigan Switchblade Ban Repeal bill, SB 245, has been scheduled for a hearing in the Senate Judiciary Committee on Tuesday, March 28, at 3 PM. SB 245 would repeal Michigan's outright ban on possession and sale of automatic (switchblade) knives. Since the sponsor of the bill, Senator Rick Jones, is also the Chairman of the Judiciary Committee, we are hopeful that the bill will pass.
However it would still be helpful if those who live, work or travel to Michigan would call the committee members TODAY and POLITELY ask them to "please support SB245 when it is heard Tuesday." Keep it just that simple.
Chairman Rick Jones: 517-373-3447
Sen. Tonya Schuitmaker: 517-373-0793
Sen. Tony Rocca: 517-373-7315
Sen. Patrick Colbeck: 517-373-7350
Sen. Steve Bieda: 517-373-8360
Knife Rights has repealed switchblade bans in Alaska, Colorado, Indiana, Kansas, Maine, Missouri, New Hampshire, Nevada, Oklahoma, Tennessee, Texas and Wisconsin.