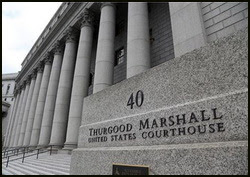 After New York Governor Cuomo vetoed Knife Rights' Gravity Knife Law Reform bill, focus shifted back to our long-running Federal civil rights lawsuit against New York City and District Attorney Cyrus Vance, Jr., which is currently under appeal.

Last week, the DA submitted a Rule 28(j) letter to the Appeals Court. Under Federal Rules of Appellate Procedure, Rule 28(j), it is allowed for counsel to advise the court of a "pertinent and significant" authority that came to the party's attention after briefs have been filed. Apparently, the DA felt that the Governor's veto was "pertinent and significant."
The DA's letter disingenuously closes with the claim, "whether and to what extent the public safety risk is outweighed by legitimate uses of folding knives that meet the statutory definition is an issue for the elected branches of government and one that they are attempting to address."
Plaintiffs have responded with their own letter, noting, "The DA takes a position…which is hard to reconcile with the facts…two years in a row, the DA has, himself, aggressively opposed such legislative efforts and has now twice convinced the Governor to veto precisely such an effort undertaken by a nearly unanimous Legislature in both instances. This year the vote in favor of the bill was 136-1 in the Assembly and 61-1 in the Senate."
This is an unconstitutional enforcement of the law that only these Defendants favor.  The Legislature sought to fix the law by deleting its reference to centrifugal force – the very source of the unconstitutional Wrist Flick Test.  Yet, Defendants have successfully enlisted the Governor's help to block any legislative effort to change the law for the better so that it comports with due process.
Click here to read the DA's 28(j) Letter
Click here to read the Plaintiff's Response to DA's 28(j) Letter
Click here to review the full appeal record including Plaintiff's Appeal Brief and the two Amicus Briefs in support.
Oral argument before a 3-judge panel is expected to be scheduled in the near future. Stay tuned.