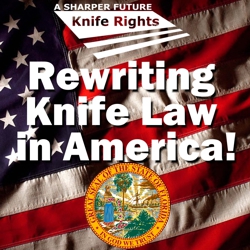 A Knife Rights supported Florida Constitutional Carry bill, HB 543, has been introduced that includes knives. We thank primary sponsors Rep. Chuck Brannan and Sen. Jay Collins for ensuring this bill covers all weapons, including knives.
Knife Rights will let you know as soon as it is appropriate to contact your Florida lawmakers to support HB 543
Knife Rights supports Constitutional Carry and particularly bills such as this that rid the state of its ban on concealed carry of knives (other than a "pocket knife") without a permit.
Knife Rights is America's grassroots knife owners' organization; leading the fight to Rewrite Knife Law in America™ and forging a Sharper Future for all Americans™. Knife Rights efforts have resulted in 40 bills enacted repealing knife bans in 26 states and over 150 cities and towns since 2010.