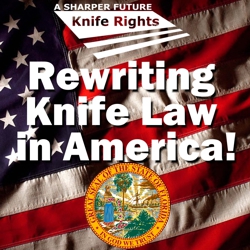 Knife Rights supported Florida Permitless Carry bill, HB 543, which includes knives, was passed by the Senate 27-13. The bill is now off to Governor DeSantis, who has previously said he supported the bill.
Thanks to all who used Knife Rights' Legislative Action Center to contact members to support this bill.
Knife Rights supports Constitutional and Permitless Carry and particularly bills such as this that rid the state of its ban on concealed carry of knives (other than a "pocket knife") without a permit.
Knife Rights is America's grassroots knife owners' organization; leading the fight to Rewrite Knife Law in America™ and forging a Sharper Future for all Americans™. Knife Rights efforts have resulted in 41 bills enacted repealing knife bans in 26 states and over 150 cities and towns since 2010.