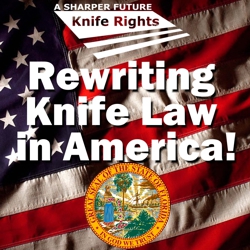 Knife Rights supported Florida Permitless Carry bill, HB 543, which includes knives, has been signed by Governor DeSantis. Once in effect, concealed carry in Florida without a permit will no longer be limited to a "pocket knife."
NOTE: Permitless Concealed Carry does not become effective until July 1st. Because there is not yet Knife Law Preemption in Florida, local laws may still limit what knives can be carried and how. We are not yet done in Florida.
We are especially appreciative of our friends at Florida Carry and Executive Director Sean Caranna, who helped ensure that knives were included in this bill and all the work they did on it. Also, thanks to FPC and NRA who's efforts helped get this bill passed. Thanks again to all who used Knife Rights' Legislative Action Center to contact legislators to support this bill.
Note that while some, including Governor DeSantis, are referring to this as "Constitutional Carry," since open carry of firearms is still not legal, we, and many, prefer to refer to it as Permitless Carry.
Knife Rights is America's grassroots knife owners' organization; leading the fight to Rewrite Knife Law in America™ and forging a Sharper Future for all Americans™. Knife Rights efforts have resulted in 42 bills enacted repealing knife bans in 27 states and over 150 cities and towns since 2010.