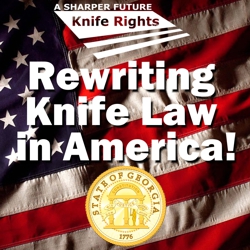 Knife Rights' supported language in Georgia SB 319, that would enact Constitutional Carry in the Peach State, has been passed and is off to the Governor for his action. Governor Kemp has said he would sign a Constitutional Carry bill if passed. He is expected to sign the bill post haste, which would make Georgia the 25th state with Constitutional Carry. SB 319 would eliminate the existing 12-inch limit on carry of knives without a concealed carry permit.
In 2012 Knife Rights passed Knife Law Preemption in Georgia, voiding local ordinances more restrictive than state law. That included Atlanta's ban on switchblades, which technically affected exhibitors and attendees at BLADE Show.
In 2017 we increased the legal carry length for a knife from 5 inches to 12 inches which covered the majority of knives that one might want to carry. SB 319 repeals that limit.
Knife Rights is America's grassroots knife owners' organization; leading the fight to Rewrite Knife Law in America™ and forging a Sharper Future for all Americans™. Knife Rights efforts have resulted in 36 bills enacted repealing knife bans in 25 states and over 150 cities and towns since 2010.