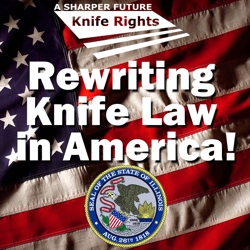 An Illinois bill to repeal the Firearm Owners Identification (FOID) Card Act, HB 150, has been introduced by Representative Joe Sosnowski. This is identical to HB 4067 that did not get a vote last year. Repeal would be a plus for those wishing to possess an automatic knife in Illinois.
As background, when we got the state's total switchblade ban repealed in 2017, we had to compromise to require a FOID card in order to possess an automatic knife (as opposed to requiring a CCW, that some legislators preferred). At a cost of $10 (good for 10 years), it is a relatively minor, if annoying, hurdle. Unless you are a prohibited person with regards to firearms possession, you are eligible for a FOID Card. But, besides the irrationality of the requirement and the modest cost, there's a more serious issue.
Last year there was a backlog of 60,000 applications for new cards or renewals. A month ago the Illinois State Police announced that the average wait time for a FOID card was 121 days, or 4 months! That obviously is a significant obstacle to anyone wanting to possess an automatic knife, if they don't already have a FOID Card.
We will let you know when it is time to contact your legislators on this bill.
Knife Rights is America's grassroots knife owners' organization; Rewriting Knife Law in America™ and forging a Sharper Future for all Americans™. Knife Rights efforts have resulted in 33 bills enacted repealing knife bans in 23 states and over one hundred cities and towns since 2010, as well as numerous litigation victories.