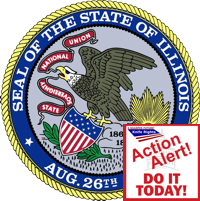 Knife Rights' bill to partially repeal Illinois' switchblade ban, SB 607, is being heard next Tuesday by the House Judiciary – Criminal Committee.
If you live, work or travel in Illinois, please fill out a Witness Slip form supporting the bill.
First, CLICK HERE to go to the Committee Hearing page.

Once on the Committee Hearing page, SCROLL DOWN to "Items Posted To Hearing" and CLICK on the "Create Witness Slip" icon for SB 607 (on the far right – outlined in red in the photo of the page below):


The Witness Slip page will open.
Fill out all the required information in section I. IDENTIFICATION
     For "Firm/Business Or Agency" type "Self"
     For "Title" type "Mr" or "Mrs" or "Ms" or pretty much whatever you want, but keep it clean.
Skip section II. REPRESENTATION

In section III. POSITION, CLICK on the RADIO BUTTON for "Proponent"
In section IV. TESTIMONY, CHECK the BOX for "Record Of Appearance Only" unless you intend to actually attend the hearing and want to speak to the Committee in favor of the bill, in which case CHECK the BOX for "Oral."

Fill out the CAPTCHA box, then CHECK the BOX for "I Agree to the ILGA Terms of Agreement," and then CLICK the "Create(Slip)" button in the lower right-hand corner.

That's it, that's all you need to do.

If you want to attend the hearing in person, it is being held on Tuesday, May 9, starting at  2:30 PM in Room 122B of the Capitol Building in Springfield, Illinois.  
SB 607 allows possession of automatic knives by those who have a Firearm Owner's Identification (FOID) Card, which allows the individual to purchase firearms and ammunition. This is not a possession with CCW bill, as some have suggested. The bill also allows for manufacture and sale of automatic knives by those not holding a FOID card.
Illinois currently has a complete ban on switchblade (automatic) knives, including manufacture and possession by anyone. Illinois was the last state to allow concealed carry of firearms, in 2013, and remains one of the most restrictive states in terms of Second Amendment rights.
Help Knife Rights continue to forge A Sharper Future™ by making a donation in the Ultimate Steel™
and you could WIN YOUR CHOICE from OVER $200,000 in Knives, Guns and More! 
Save
Save
Save
Save
Save
Save