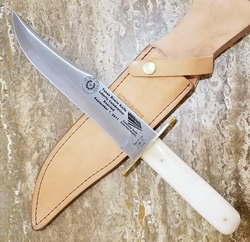 Doug Ritter, Knife Rights Chairman, and Todd Rathner, Knife Rights' Director of Legislative Affairs, were in Austin, Texas, this week to celebrate last year's enactment of HB 1935. That bill eliminated from Texas statute the prohibition against carrying "illegal knives," including throwing knives, daggers, dirks, stilettos, poniards, swords, spears and most notably, Bowie knives, as well as blades over 5.5 inches except in a few locations (Click for full details). The celebration was originally scheduled to be held last September at The Alamo, but tragically, Hurricane Harvey intervened.
On Monday we were honored to hold a presentation ceremony in the House of Representatives Chamber at the Texas Capitol. It only seemed appropriate to do the presentation under the historic portrait of Jim Bowie, hero of the Alamo, whose eponymous knife was finally made legal to carry in Texas by the enactment of HB 1935.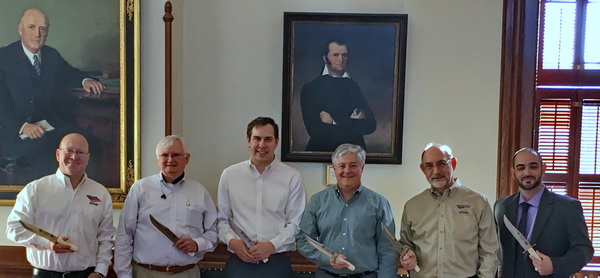 Rep. John Frullo, primary bill sponsor, was presented with a specially engraved Bowie donated by Bear and Son Cutlery. Also presented with engraved Bowies was a group of our Texas friends who helped get HB 1935 passed Todd Rathner, Rick Briscoe (Open Carry Texas), Matt Abel (Rep. Frullo's Chief of Staff), Rep. John Frullo, Doug Ritter and AJ Postell (Lone Star Gun Rights).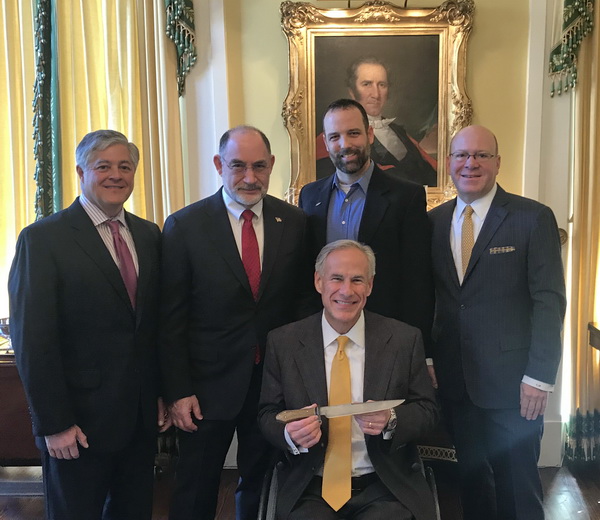 To recognize his signing of the bill into law, on Tuesday we had the honor of being invited to the Texas Governor's Mansion to present Governor Greg Abbott with a very special Texas Heritage Bowie forged by Texas Knifemakers' Guild President Jason Fry, a sixth generation Texan, who generously donated his efforts.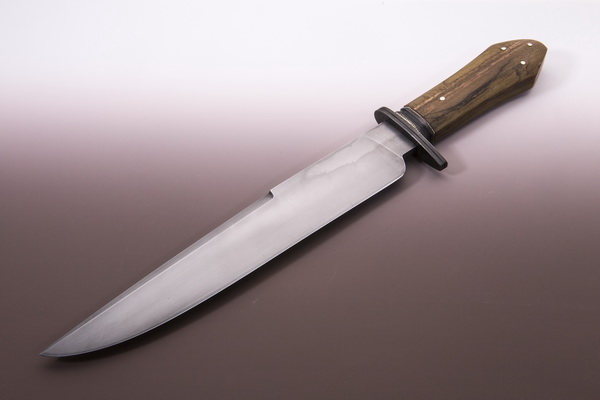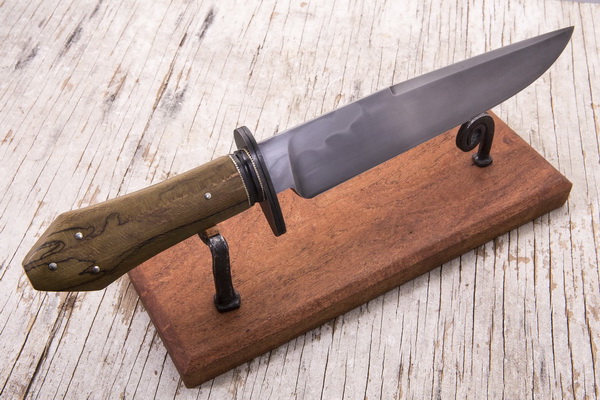 With an overall length of 15 inches, the 9 5/8-inch blade of W2 steel donated by Aldo Bruno features a distinct hamon. The handle is spalted Sycamore from the grounds of the Texas Capitol, dyed and stabilized by Terry Dunn of LaVernia, Texas. The guard and spacer are wrought iron from a rail of the first railroad into Dallas in 1872 that was donated by Will Frary of Grapevine, Texas. The coined spacers are 1836 Capped-Bust Silver Half Dollars, signifying the year Texas won its independence from Mexico.
The stand is Mesquite from Abilene, Texas, donated by one of Fry's cousins, also a sixth generation Texan. The wrought iron square nails forged to shape for the stand are from the house of 1840s settler Allen Urquhart who founded Jefferson, Texas, donated by Don Millhouse of Fredericksburg, Texas.
To all involved, job well done!