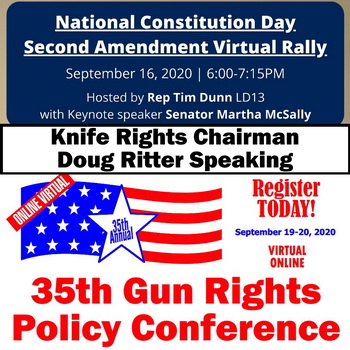 National Constitution Day Arizona Second Amendment Virtual Rally Wednesday Evening, September 16th
This year's National Constitution Day Arizona Second Amendment Rally will be held online the evening of Wednesday, Sept. 16th, starting at 6:00 PM Arizona (9:00 PM Eastern). Knife Rights Founder and Chairman Doug Ritter and his wife Sue are featured speakers.
Hosted by Arizona state Rep. Tim Dunn (LD13) and headlined by Sen. Martha McSally, speakers supporting the Second Amendment will include Cheryl Todd of Gun Freedom Radio and Tiffany Shedd, Congressional candidate for AZ CD1.
Click to download the event flyer.
The event will be streamed on Facebook Live. Join Representative Tim Dunn on his Facebook page at 6:00 PM Arizona (9:00 PM Eastern): Tim Dunn For Az House
If you register, you will be eligible for some valuable "door prizes" that will be given away LIVE during the event, including some knives from Knife Rights.
REGISTER for Prizes at: www.eventbrite.com/e/national-constitution-day-second-amendment-virtual-rally-tickets-120451007205
---
35th Gun Rights Policy Conference Saturday & Sunday, September 19th & 20th
Knife Rights Founder and Chairman Doug Ritter will be speaking at his 10th Gun Rights Policy Conference this weekend.
The 35th Annual Gun Rights Policy Conference (GRPC) will be held online this weekend, September 19 & 20th. This year's theme is "Elect Freedom." Get an insider look at pro-Second Amendment strategies for the election and coming year.
This is an opportunity to hear first-hand from the nations 2A leaders–and make your voice heard. This year's roster includes Alan Gottlieb, Mercedes and Matt Schlapp, John Lott, Mark Walters, David Hardy, Dave Kopel, AWR Hawkins, Massad Ayoob, Tom Gresham, Rob Pincus, Cam Edwards and many others.
There are a number of Special Appearances scheduled whose names you will recognize from the daily news, but you'll have to listen in to find out who. Having said that, I am pretty sure you won't be disappointed!
I will be speaking during the afternoon session on Saturday, Sept. 19th, starting at 4:44 PM Central.
REGISTER for FREE at: www.saf.org/GRPC and you'll be provided all the information you need to participate LIVE online.