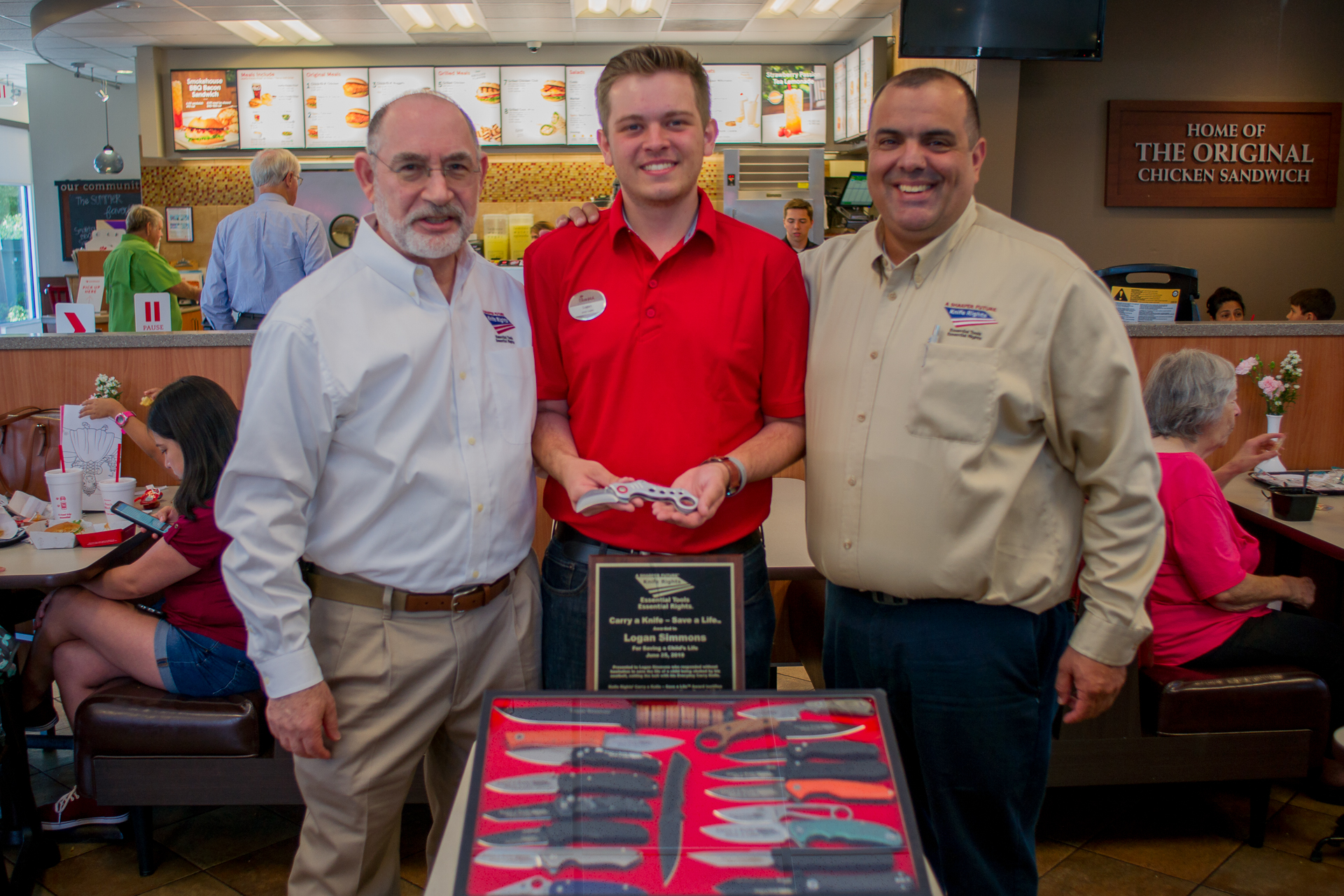 L-R: Doug Ritter, Logan Simmons and Alan Romania – Logan holding the knife he used to save the child.
for higher resolution images – Photo Credits: Dirk Loots)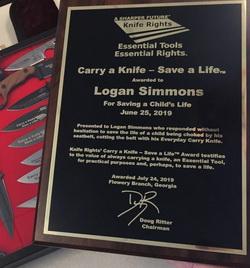 On July 24, 2019 in the Flowery Branch, Georgia, Chick-Fil-A where on June 25th nineteen-year-old Logan Simmons saved a six-year-old child choking in his seatbelt, Knife Rights Chairman Doug Ritter presented Logan with Knife Rights' Carry a Knife – Save a Life™ Award in recognition of the young hero's quick thinking and forethought to have a pocket knife handy. Climbing through the drive-in window, Simmons pulled out his pocket knife and cut the boy free, saving his life
Ritter said, "Logan Simmon's action to save a young child's life is a dramatic testimony to the value of always carrying a knife. You never know when your knife will be the difference between life and death; these situations cannot be foreseen, as Logan discovered."
"There are still places in America where the pocket knife Logan used would be illegal to carry. Knife Rights is committed to ensuring that law-abiding Americans can carry whatever knife they want to be prepared for whatever challenges they may have to meet without irrational restrictions that do nothing to stop criminal activity," Ritter concluded.
The Knife Right's Carry a Knife – Save a Life™ Award honors an individual who has used their Every Day Carry knife to save a life, demonstrating the practical advantages to always carrying a knife in order to be prepared for situations when a knife is invaluable, up to and including saving lives.
Knife Rights Board Member Alan Romania, a first responder who participated in the award presentation, said, "In a society where most are content to be a spectator with a video camera when someone is in trouble, Logan chose to be something more. When he witnessed an emergency he was prepared with his every day carry knife. He had the right tool that day because he had the mindset to be prepared."
Logan Simmons said, "I am honored to receive this award from Knife Rights. I was pleased to find out there was an organization standing up for knife owners."
In addition to an award plaque, Knife Rights' knife industry friends donated over $5,000 in Every Day Carry knives for Logan, including one-hand opening folders, automatic knives and fixed blades, all legal for him to carry in Georgia. The donors each donated two knives, one for SHOW and one for GO. One for display, one Logan can carry.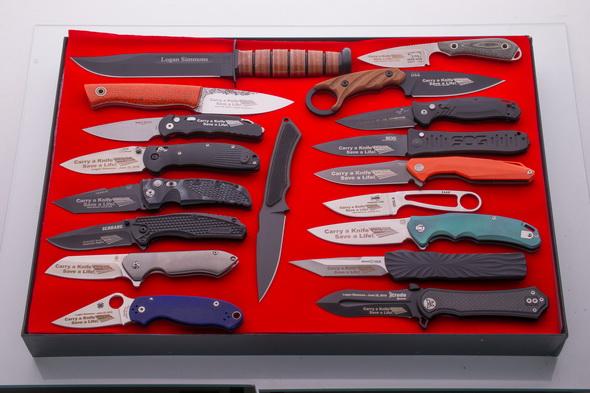 In addition, Logan was presented with a Life Membership in Knife Rights, a certificate inviting him to be Knife Rights' and BLADE Magazine's VIP Guest at next year's BLADE Show, the largest knife show in the world held June 5-7, 2020, at the Cobb Galleria in Atlanta, and a certificate from W.A. Surls Knives and Pop's Knife Supply of Braselton, Georgia, for a Two-Day Knifemaking Experience where Logan will make his own custom knife from scratch with supplies provided by Pop's.
Companies who donated knives were: Artisan Cutlery, Bear & Son Cutlery, Brian Tighe & Friends, Doug Ritter/Knifeworks, ESEE Knives, Fiddleback Forge, Hogue Knives, KA-BAR Knives, Kizer Cutlery, Krudo Knives, Pro-Tech Knives, Rikeknife, Schrade, Spyderco, SOG Specialty Knives & Tools, Spartan Knives, Tops Knives and White River Knife & Tool. Knifeworks donated laser engraving on a number of the knives.
Logan's mother, Teri Simmons, was also presented with a number of pocket knives, recognizing that mothers make a difference. Logan's co-workers at Chick-Fil-A also got pocket knives for them to carry.
Knife Rights' and its supporters and followers are also contributing a minimum of $500 to the Logan Simmons Car Fund GoFundMe campaign to allow Logan to buy a car and enjoy the independence that comes with not having to rely on his mom, siblings and friends for transportation. After receiving news that the GoFundMe campaign and a local Toyota dealer and  has just donated a car, (and also here) the funds will go towards insurance and gas. Donate at: https://www.gofundme.com/logan-simmons-car-fund
Also attending the award ceremony was Sen. Bill Heath, Knife Rights' Georgia bills sponsor, and Sen. Butch Miller, representing the Chick-Fil-A's district.
Knife Rights (www.KnifeRights.org) is America's grassroots knife owners advocacy organization, forging a Sharper Future™ for all knife owners by Rewriting Knife Law in America™. Knife Rights efforts have resulted in 31 bills enacted repealing knife bans in 22 states and over one hundred cities and towns since 2010.
Two of those bills enacted were in Georgia. In 2012 Knife Rights' signature Knife Law Preemption bill was enacted voiding dozens of local knife restrictions including Atlanta's, host of the BLADE Show, the largest knife show in the world, protecting attendees and exhibitors and preventing any future local restrictions more restrictive than state law. Preemption ensures everyone can expect consistent enforcement of state knife laws everywhere in a state. In 2017 the legal carry blade length of a knife without a CCW was increased from 5 inches to 12 inches.
Support Knife Rights' efforts to Forge a Sharper Future™ with a donation in the Ultimate Steel™ Spectacular and get a chance to WIN from OVER $167,000 in Custom Knives, Guns & More!