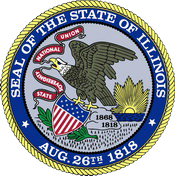 Knife Rights' bill to mostly repeal Illinois' switchblade ban, SB 607, was signed late on Friday by Governor Bruce Rauner. It was effectively immediately upon signing.
SB 607 allows possession, including carry, both open and concealed, of automatic knives by those who have a Firearm Owner's Identification (FOID) Card, which allows the individual to purchase firearms and ammunition. This is not a possession with CCW law, as some have suggested. The new law also allows for manufacture and sale of automatic knives by those not holding a FOID card.
It must be noted that this bill that was finally passed and signed into law started out last year as a full switchblade ban repeal. Then the Chairman of the House Judiciary Committee insisted it be amended so a switchblade would only be legal with a Firearm Concealed Carry License (FCCL). Knife Rights Director of Legislative Affairs, Todd Rathner, went to Illinois and was able to negotiate a compromise that allowed for possession and carry by holders of a Firearm Owner's Identification (FOID) card. To put this into perspective, in Illinois there are approximately 2.1 million FOID card holders vs. only 223,637 FCCL holders (Illinois was the last state to legalize concealed carry).
WARNING: Without state knife law preemption, Chicago can continue to ban switchblades. No doubt others do as well, though a check of the municipal codes of the 10 next largest Illinois cities by population found none with a switchblade ban for adults. In any case, be careful where you possess and carry and make sure it is legal to do so. Click here for How to Find Your Local Knife Laws.

If you don't already have a FOID card, you can apply here: https://www.ispfsb.com/public/foid.aspx  It costs $10.00 to apply and takes up 30 days to process the background check. Disqualifications are similar to those on an ATF Form 4473 required when purchasing a firearm. Applicants under age 21 require a parent or legal guardian FOID card eligible sponsor. The FOID card is good for 10 years and can be renewed online. Out of state residents are out of luck for now as they are not eligible for a FOID Card except when required for employment in the state as as a law enforcement officer or an armed security officer.
Anyone who is engaged in the sale or manufacture of automatic knives does not need a FOID Card to conduct those activities. However, once no longer engaged in those activities, a FOID Card is required to possess or carry.
While the new law doesn't include a requirement that a seller check that the purchaser is a FOID Card holder, a retailer or someone else might choose to check that a purchaser has a FOID Card out of an abundance of caution and concern about potential legal liability since it is not settled law. We would consider that a smart policy.
Congratulations to our sponsors, Sen. Tim Bivins and Rep. Brian Stewart. Together we are forging a Sharper Future™ for everyone in Illinois.
Illinois brings to 15 the number of states where bans on switchblades have been repealed since Knife Rights started its efforts in 2010!  In total, Knife Rights has now passed 27 pro-knife bills repealing knife bans or restrictions in 20 states!