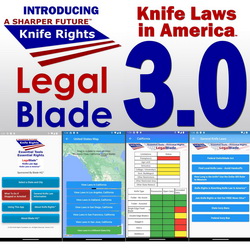 LegalBlade™ 3.0, the latest iteration of Knife Rights Foundation's groundbreaking LegalBlade™ Knife Laws in America™ App, is now available in the Apple App Store and Google Play Store. As before, LegalBlade™ provides guidance at your fingertips to the knife laws of all 50 states, the District of Columbia and over 40 cities. Knowledge of the law is the first step in avoiding an unfortunate arrest, loss of your knife or other legal complications.
NOTE: If you already have LegalBlade™ loaded on an Apple device (iPhone or iPad), it should automatically update to the 3.0 version unless you have that option turned off. If you have an ANDROID device, you will need to do a fresh download of LegalBlade™ 3.0 (and delete your existing version).
We sincerely appreciate Blade HQ's continued sponsorship of the LegalBlade™ App. New compliance requirements by Apple and Google would have required extensive updates to the existing app. Instead, with Blade HQ's support, we took this opportunity to have the app completely rewritten using a modern toolbox so it runs more efficiently than before and future-proofs it to a degree.
While the interface is updated, what has not changed is the presentation that gives you what's legal or not at a quick glance with easy to understand color-coded tables, backed-up a finger press away by additional nuances that may exist with some knives or means of carry. All relevant state statutes and critical legal decisions and precedents are also provided. The latter are incorporated into the tables as the written law and how it is actually enforced due to court decisions that are often two different things. As before, the data is maintained on our server, so the information you receive is always current.
Despite Knife Rights' groundbreaking efforts to enact Knife Law Preemption nationwide, the majority of states do not currently have preemption. In states without preemption, local jurisdictions may have laws more restrictive than state law. The app includes the knife laws of over 40 cities and towns, but it is logistically impossible to do so for everywhere in America. To accommodate these many other locales, the app provides links to the two largest online repositories of county and municipal codes.
The app also provides critical information on what to do if stopped or arrested, written by Evan Nappen, noted knife law expert and attorney.
LegalBlade™ is an educational service of the 501(c)(3) Knife Rights Foundation.
Knife Rights is America's premier knife advocacy organization; leading the fight to Rewrite Knife Law in America™ and forging a Sharper Future for all Americans™. Knife Rights efforts have resulted in 44 bills enacted repealing knife bans in 28 states and over 175 cities and towns since 2010.