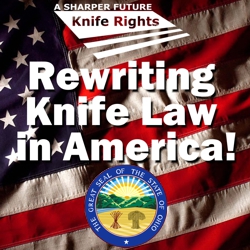 After testimony by Knife Rights Director of Legislative Affairs, Todd Rathner, Knife Rights' Ohio Knife Law Preemption bill, SB 156, was reported favorably out of the House Government Oversight Committee at its third hearing by a vote of 8-4. This is the Senate version of the bill selected to move forward after identical versions were passed by both houses last year. A clarifying technical amendment was made to the bill in committee. Next step is a House vote.
We'd like to thank Government Oversight Committee Chairman Shane Wilkin for his assistance in moving this bill.
Knife Rights will let you know when it is time to next call or email in support of Knife Law Preemption in Ohio.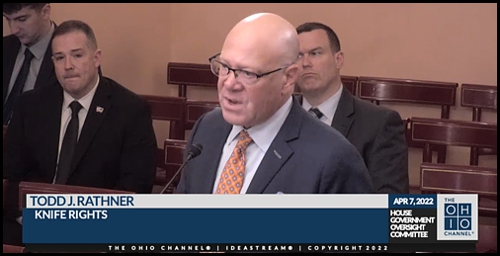 These bills follow enactment last year of Knife Rights' Ohio Knife Law Reform bill, SB 140. Without knife law preemption making those reforms applicable statewide, numerous cities and towns in Ohio are still able to ban many knives that are perfectly legal under Ohio's statutes.
Knife Law Preemption is a Knife Rights criminal justice reform effort that repeals and prevents local ordinances more restrictive than state law which only serve to confuse or entrap law-abiding citizens traveling within or through the state. Preemption ensures citizens can expect consistent enforcement of state knife laws everywhere within a state.
Knife Rights passed the nation's first Knife Law Preemption bill in Arizona in 2010 and has since passed preemption bills in Alaska, Georgia, Kansas, New Hampshire, Oklahoma, Tennessee, Texas, Utah, West Virginia and Wisconsin.
Knife Rights is America's grassroots knife owners' organization; leading the fight to Rewrite Knife Law in America™ and forging a Sharper Future for all Americans™. Knife Rights efforts have resulted in 36 bills enacted repealing knife bans in 25 states and over 150 cities and towns since 2010.