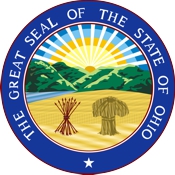 Ohio State Senator Frank LaRose today introduced, Senate Bill 242, Knife Rights' bill to repeal Ohio's irrational ban on the manufacture and sale of "switchblade, springblade, and gravity knives." Ohio statutes allow for the possession and carry of these knives, but they cannot be manufactured or sold in the state. Ohio loses out on jobs and tax revenue as Ohioans spend their money outside the state's borders. Co-sponsors include Senate President Larry Obhof and Senators Joe Uecker, John Eklund and Kris Jordan.
"I am looking forward to working with Knife Rights to reform the antiquated knife laws in Ohio which prevent manufacturers here from creating jobs and expanding their facilities. This bill will help both the state and retailers generate additional revenue by allowing people to buy knives that are readily available across state lines," said Senator LaRose. Knife Rights Director Of Legislative Affairs, Todd Rathner, was in Ohio last week conducting meetings with Senator LaRose and members of the legislature.
SB 242 is the first bill filed in Knife Rights' 2018 legislative effort. You can expect more bills to be filed in coming weeks and months. This year saw a record six bills enacted that eliminated bans on knife ownership and carry, for a total of 28 bills in 20 states in the past eight years. Knife Rights really is rewriting knife law in America™ with your support.
Please consider making a year-end TAX-DEDUCTIBLE donation to the Knife Rights Foundation. It's your contributions that make our work possible.