Knife Rights Sues California to End Unconstitutional "Switchblade" Ban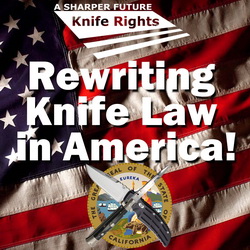 Knife Rights today filed a federal lawsuit challenging California's complete ban on common automatic knives 2-inches and greater that the State prohibits as illegal "switchblades." Joining Knife Rights in the case are Knife Rights members James Miller, Garrison Ham, and Eliot Kaagan and knife retailer members North County Shooting Center and Poway Weapons and Gear. They are represented by attorney John W. Dillon at the Dillon Law Group.
Named as defendants are California Attorney General Rob Bonta and other government officials.
… Continue reading Knife Rights Sues California to End Unconstitutional "Switchblade" Ban
Copy and paste this URL into your WordPress site to embed
Copy and paste this code into your site to embed