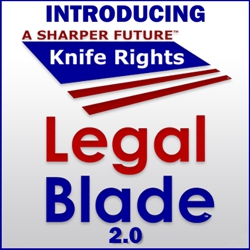 Knife Rights Foundation is excited to introduce LegalBlade™ Knife Law App 2.0 – Knife Laws in America™, the enhanced second generation of the world's first and only knife law app. The improved LegalBlade™ App features an all new, easier to navigate user interface and it is now FREE compliments of sponsor Blade HQ. Knife Rights' LegalBlade™ app provides guidance at your fingertips to the knife laws of all 50 states, the District of Columbia and over 40 cities. Knowledge of the law is the first step in avoiding an unfortunate arrest, loss of your knife or other legal complications.
Geolocation and a mapping interface have been added, allowing users to automatically find the knife laws in their location or by using the U.S. map or the original menu interface. Additional categories of knives have been added, as well as information on Federal and State ivory bans. The app now works in conventional vertical mode.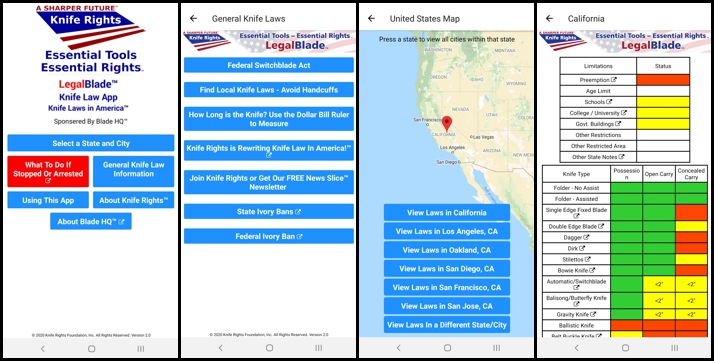 "Knife Rights continues to aggressively rewrite knife law in America with 32 bills repealing knife bans enacted since 2010, but knife owners in many jurisdictions still need to be careful about what knives they possess and carry," said Knife Rights Foundation Chairman Doug Ritter, who also leads the sister 501(c)(4) Knife Rights, Inc. advocacy organization. "Our LegalBlade App was an extraordinary innovation when first introduced in 2014 and this completely new interface makes it easy for people to access the knife laws wherever they might be or travel. We, and knife owners everywhere, thank Blade HQ for their generosity and sponsorship that empowered us to develop LegalBlade™ App 2.0 and allow us to offer the app to everyone, free of charge."
Mark Christensen, CEO of Blade HQ, said, "Blade HQ was thrilled to work with Knife Rights Foundation on the development and sponsorship of this app. We regularly get calls from customers in certain areas of the country, with questions about what knives they can own and what knives they can carry in their pocket. Customers travelling across state lines have similar questions. Helping with the sponsorship and development of this app was an easy way for us to get this information out to knife owners across the country."
LegalBlade™ is an educational service of the 501(c)(3) Knife Rights Foundation. The LegalBlade™ Knife Law App 2.0 is generously sponsored by Blade HQ. Assistance in research, review of laws, and updated links to case law were generously contributed by Firearms Policy Coalition, Firearms Policy Foundation, and Evan Nappen, Esq.
New users can download and install LegalBlade™ App 2.0 for free at:
Upgrading to the LegalBlade™ App 2.0
iOS: Current iOS users of the first generation LegalBlade™ App should be automatically upgraded or will be notified that version 2.0 is available, depending on their settings
Android: Android users should delete the original LegalBlade™ App and download LegalBlade™ App 2.0 for free
Features of LegalBlade™ App 2.0
Includes knife laws of all 50 states, District of Columbia, plus over 40 cities
Always current – all legal data maintained on server for instant law updates
Geolocation or select State/City via map or menu
Easy to understand, color-coded tables
Comprehensive information on the legality of Possession, Open Carry and Concealed Carry for all common knife types
Includes: length restrictions, age restrictions and other restrictions in the law
Results presented incorporate case law that affect how the law is actually enforced
Includes the text of the state law, plus applicable portions of court decisions that further define what is legal and what is not
"What To Do If Arrested," by Evan Nappen, noted knife law expert & attorney, provides clear, concise information to protect your rights if you are ever stopped for carrying a knife or arrested for a knife law violation
Annotated Federal Switchblade Act
"Dollar Bill Ruler" provides a quick way to measure approximate knife blade length
Information on Federal and State ivory bans
Information and links to help find local knife laws and ordinances not included in the app
About Knife Rights Foundation
The 501(c)(3) Knife Rights Foundation is America's foremost public benefit organization dedicated to knives. The Foundation's primary efforts are focused on to defense of knife owners' civil rights through litigation. The Foundation also works to educate knife owners, public officials and the general public about knife and edged tool related laws and regulations.
About Blade HQ
Blade HQ (www.bladehq.com) loves sharing our passion with the knife community. We are based in Utah and have been the headquarters for the knife world since 2003. We specialize in anything sharp and pointy and care about our fellow knife enthusiasts.
About Firearms Policy Coalition
Firearms Policy Coalition (www.firearmspolicy.org) is a grassroots, 501(c)4 nonprofit advocacy organization that includes FPC Law, FPC Policy, FPC Research, FPC Grassroots, and other programs. FPC's mission is to protect and defend constitutional rights—especially the right to keep and bear arms—advance individual liberty, and restore freedom.
About Firearms Policy Foundation
Firearms Policy Foundation (www.firearmsfoundation.org) is a grassroots, 501(c)3 nonprofit public benefit organization. FPF's mission is to protect and defend the Constitution of the United States and the People's rights, privileges, and immunities deeply rooted in this Nation's history and tradition