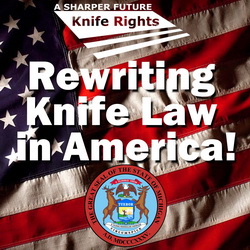 Michigan Representative Ryan Berman and nine co-sponsors have introduced HB 5883, a bill that would repeal the state's ban on concealed carry of "a dagger, dirk, stiletto, a double-edged nonfolding stabbing instrument of any length, or any other dangerous weapon" A "a hunting knife adapted and carried as such" is already excluded from the ban.
We will let you know when it is time to contact your legislators to move HB 5883 forward.
In 2017 we were able to repeal Michigan's ban on switchblade (automatic) knives. Last year our Knife Law Preemption bill was passed, but was vetoed by Governor Whitmer.
Knife Rights is America's grassroots knife owners' organization; leading the fight to Rewrite Knife Law in America™ and forging a Sharper Future for all Americans™. Knife Rights efforts have resulted in 34 bills enacted repealing knife bans in 23 states and over 150 cities and towns since 2010.