Mississippi Knife Law Preemption Bill Introduced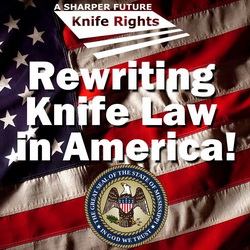 Mississippi Senator Joseph "Mike" Seymour has introduced SB 2383, a bill that would enact Knife Rights' signature Knife Law Preemption in the state.
Knife Law Preemption is a Knife Rights' criminal justice reform effort that repeals and prevents local ordinances more restrictive than state law which only serve to confuse or entrap law-abiding citizens traveling within or through the state. Preemption ensures citizens can expect consistent enforcement of state knife laws everywhere within a state.
… Continue reading Mississippi Knife Law Preemption Bill Introduced
Copy and paste this URL into your WordPress site to embed
Copy and paste this code into your site to embed