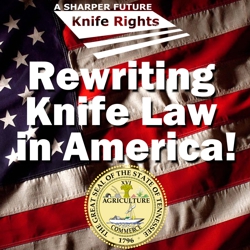 Knife Rights supported Nebraska Constitutional Carry bill, LB 77 which covers knives and includes Knife Law Preemption, has been signed by Governor Jim Pillen. Gov. Pillen said, "this bill fulfills the promise I made to voters to uphold our Second Amendment rights and the ability of all law-abiding Nebraskans to defend themselves."

NOTE: The new law does not take effect until 90 days after the legislature adjourns. With an expected June 9th adjournment, that  is expected to be early in September, but will depend on the actual adjournment date. Knife Rights will let you know as the actual enactment date approaches.
All "weapons," including knives, will be covered by Nebraska's Constitutional Carry statute. The expanded "weapons" preemption statute will also cover Knife Law Preemption, one of Knife Rights signature legislative efforts. This will bring to 12 the number of states that have passed Knife Law Preemption since we started in 2010 with the nation's first Knife Law Preemption bill in Arizona.
We sincerely appreciate that the sponsors ensured that this Constitutional Carry bill covers all weapons, including knives. We work tirelessly to persuade legislators that Constitutional and Permitless Carry isn't just about firearms or handguns. The Constitution doesn't say firearms," is says "arms." Our knives are arms, protected by the Second Amendment.
We also appreciate all of you who used Knife Rights' Legislative Action Center to contact your legislators. Feedback we received was very positive regarding legislators that were wavering. Together, we really do make a difference!
Knife Rights is America's grassroots knife owners' organization; leading the fight to Rewrite Knife Law in America™ and forging a Sharper Future for all Americans™. Knife Rights efforts have resulted in 44 bills enacted repealing knife bans in 27 states and over 175 cities and towns since 2010.