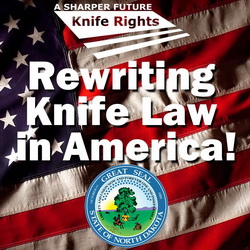 North Dakota Representative Claire Cory has introduced HB 1479 that would remove "switchblade or gravity knife, machete, scimitar, stiletto, sword, dagger, or knife with a blade of five inches [12.7 centimeters] or more" from the definition of a "dangerous weapon." It would also enact Knife Rights' signature Knife Law Preemption in the state.
Knife Law Preemption is a Knife Rights' criminal justice reform effort that repeals and prevents local ordinances more restrictive than state law which only serve to confuse or entrap law-abiding citizens traveling within or through the state. Preemption ensures citizens can expect consistent enforcement of state knife laws everywhere within a state.
Co-sponsors are Representatives Christensen, Dyk, Koppelman and M. Ruby and Senators Boehm, Clemens, Larsen, Luick, Magrum and Paulson.
Knife Rights will let you know as soon as it is appropriate to contact your North Dakota lawmakers to support HB 1479.
Knife Rights passed the nation's first Knife Law Preemption bill in Arizona in 2010 and has since passed preemption bills in Alaska, Georgia, Kansas, New Hampshire, Ohio, Oklahoma, Tennessee, Texas, Utah, West Virginia and Wisconsin.
Knife Rights is America's grassroots knife owners' organization; leading the fight to Rewrite Knife Law in America™ and forging a Sharper Future for all Americans™. Knife Rights efforts have resulted in 40 bills enacted repealing knife bans in 26 states and over 150 cities and towns since 2010.