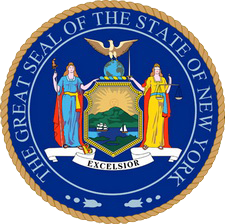 While we were successful in repealing New York's Gravity Knife Ban in an effort to solve the problems with New York City's unconstitutional enforcement scheme against possessors of  common folding knives, we were unable to stop another irrational knife ban from being put in place. Governor Cuomo has signed S4202, a ban on manufacturing, shipment or possession of "undetectable" knives.
(NOTE: The bill passed with partisan majorities after five prior attempts where it passed the Assembly twice, but never previously got even a committee vote in the Senate. This year the Senate switched from Republican to Democratic control.)
The definition of an "undetectable knife" is: "any knife or other instrument, which does not utilize materials that are detectable by a metal detector…that is capable of ready use as a stabbing or cutting weapon and was commercially manufactured to be used as a weapon" (emphasis ours).
The possession restriction is subject to the proviso that the knife or instrument not be possessed "with the intent to use unlawfully against another." This is a gray area in the law that is subject to abuse in some jurisdictions, particularity large cities. Please review our warning advising to never claim carry of a knife for self-defense in order to understand one part of this abuse issue. Note that even if you don't make this claim, it doesn't prevent law enforcement or prosecutors from charging you with the crime and it would be up to your lawyer to fight that.  As such, we'd suggest you may want to consider if the risk is worth it to carry one of these "undetectable knives."  There is no such proviso limiting sale or shipping, they are banned all together.
The new law is unlikely to accomplish anything worthwhile, but rather will give law enforcement and prosecutors another way to harass what will almost always be innocent victims of another poorly conceived and unnecessary knife ban.
The crime will be a Class A misdemeanor punishable by up to a year in jail and goes into effect on November 1, 2019. As with other NY Class A misdemeanors, it can, and likely would be, upgraded to a felony charge if there is a prior criminal conviction. Those in possession of these commonly available items may want to consider disposing of them by some means prior to that date if they desire to avoid any possibility of criminal liability.
While it will take court rulings to determine exactly what is meant by "commercially manufactured to be used as a weapon," it is likely that anything that has been presented as such in any advertising or promotion by a company will almost certainly be included, as will likely any knife that is a copy of, or visually similar to, a knife that has ever been advertised or promoted as a weapon. So, daggers, for example, are likely to be included. Calling something a "letter opener" is unlikely to persuade a NY prosecutor or judge. Word to the wise…