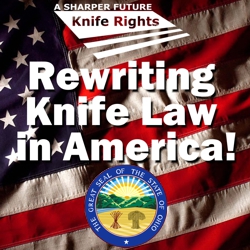 By a vote of 55 to 36 the Ohio House passed Knife Rights' Ohio Knife Law Preemption bill, HB 243. Passage came only hours after HB 243 passed out of the Government Oversight Committee by a vote of 8 to 4 after five hearings! The Senate previously passed their version of this bill, SB 156.
We'd like to congratulate HB 243 sponsor Rep. Al Cutrona on passage of this bill. We sincerely appreciate all the effort he's put in getting the job done. We'd also like to thank Government Oversight Committee Chairman Shane Wilkin for his assistance in moving this bill.
Knife Rights will let you know when it is time to next call or email in support of Knife Law Preemption in Ohio.  CLICK HERE to sign up for our FREE News Slice™ newsletter to be notified.
These bills follow enactment back on April 12th of Knife Rights' Ohio Knife Law Reform bill, SB 140. Without knife law preemption making those reforms applicable statewide, numerous cities and towns in Ohio are still able to ban many knives that are perfectly legal under Ohio's statutes.
Knife Law Preemption is a Knife Rights criminal justice reform effort that repeals and prevents local ordinances more restrictive than state law which only serve to confuse or entrap law-abiding citizens traveling within or through the state. Preemption ensures citizens can expect consistent enforcement of state knife laws everywhere within a state.
Knife Rights passed the nation's first Knife Law Preemption bill in Arizona in 2010 and has since passed preemption bills in Alaska, Georgia, Kansas, New Hampshire, Oklahoma, Tennessee, Texas, Utah, West Virginia and Wisconsin.
Knife Rights is America's grassroots knife owners' organization; leading the fight to Rewrite Knife Law in America™ and forging a Sharper Future for all Americans™. Knife Rights efforts have resulted in 34 bills enacted repealing knife bans in 23 states and over 150 cities and towns since 2010.