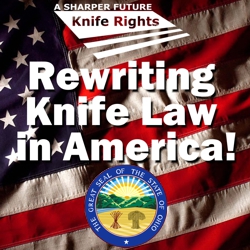 On Tuesday, April 13, at the Rick Hinderer Knives factory in Shreve, Ohio, before a gathering of legislators and other advocates who helped make it happen, Rick assembled a prototype of his first automatic (switchblade) knife that is now legal to manufacture in Ohio with the enactment the day before of SB 140, Knife Rights' Ohio Knife Law Reform bill.
Rick Hinderer thanked the assembled legislators, Knife Rights and other advocates, saying, "you have made it possible for us to expand our markets into automatic knives which will grow our business."

Rick Hinderer assembling Rick Hinderer Knives' prototype switchblade.
Right: Senator Kristina Roegner, SB 140 sponsor, with her first
switchblade opening reaction.
Knife Rights Chairman Doug Ritter thanked Rick and his wife, Lori, for hosting the celebration and added his own thank you to all involved, saying, "this is a great day for Rick, a great day for Ohioans, and a great day for freedom. We celebrate not only what this new law means for Rick, but also the criminal justice reform aspect of the new law. Law-abiding Ohioans can now carry concealed whatever knife they want without fearing arrest under Ohio's previous terribly vague concealed carry ban."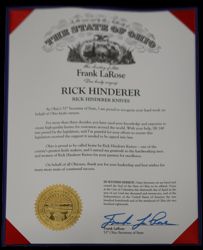 Attending the celebration were Senator Kristina Roegner (SB 140 Sponsor), Senator (Retired) Joe Uecker (Original SB 140 Sponsor), Representative Scott Wiggam (SB 140 House Sponsor), Representative Al Cutrona (Sponsor HB 243 Ohio Knife Law Preemption Bill) and Knife Rights and Rick Hinderer Knives good friend Jim Irvine.
Senator George Lang (SB 140 Co-Sponsor, former Chair House Criminal Justice Committee) was unable to attend. Governor DeWine sent his regrets, but provided the pens used to sign SB 140 that were distributed to those attending.
Secretary of State Frank LaRose was represented by Alex Pavloff who presented Rick with a proclamation recognizing his "hard work on behalf of Ohio knife owners" and for his leadership in the effort to pass SB 140.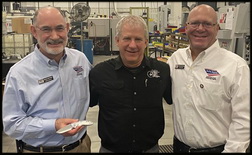 Knife Rights Director of Legislative Affairs, Todd Rathner, said, "the success we had in Ohio was only possible because of the team we were able to assemble to get it done, each of the legislators and the Governor deserve thanks from Ohio's knife owners, it was only possible because we did what Knife Rights always does, we showed up in person and got the job done."
Rep. Wiggam acknowledged Knife Rights' efforts, complimenting Todd on his diligence, particularly in the midst of the pandemic, saying, "this bill would not have been passed without Todd's persistence and his many trips to the state house to lobby for SB 140."
Knife Rights is America's grassroots knife owners' organization; leading the fight to Rewrite Knife Law in America™ and forging a Sharper Future for all Americans™. Knife Rights efforts have resulted in 33 bills enacted repealing knife bans in 23 states and over 100 cities and towns since 2010.