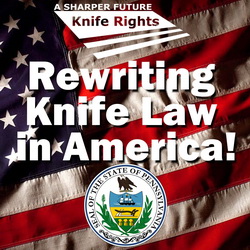 HB 1929, a bill to repeal Pennsylvania's ban on automatic knives, has been advanced out of the House Judiciary Committee by a unanimous vote. Congratulations to our good friend sponsor Representative Martin Causer. It now moves to the House floor for a vote.
Knife Rights is working with Rep. Causer to move this bill forward as part of our comprehensive plan to see important criminal justice and knife law reform enacted in Pennsylvania. In the Senate, our good friend Senator Sharif Street has introduced SB 1013, a complimentary bill.that would also repeal Pennsylvania's irrational switchblade ban.
Knife Rights will let you know when it is time to contact your legislators to support HB 1929 and SB 1013.
Knife Rights has led the effort to repeal switchblade bans or restrictions in 19 states, starting with New Hampshire in 2010. Repeals have since been enacted in Alaska, Colorado, Illinois, Indiana, Kansas, Louisiana, Maine, Michigan, Missouri, Montana, Nevada, Ohio, Oklahoma, Tennessee, Texas, Virginia (effective July 1), Washington and Wisconsin.
Altogether, Knife Rights' efforts have resulted in 36 bills enacted repealing knife bans in 25 states and over 150 cities and towns since 2010.