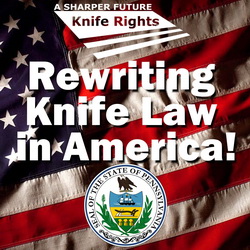 HB 1929, repealing Pennsylvania's ban on automatic knives, today passed out of the Senate Judiciary Committee with a unanimous vote. The bill previously passed the House 202-1. It now moves to the Senate floor for second consideration.
We would especially like to thank Judiciary Committee Chairwoman Lisa Baker, with whom we worked closely, for taking up HB 1929 in her committee and advancing it to the floor of the Senate.
Knife Rights has led the effort to repeal switchblade bans or restrictions in 19 states, starting with New Hampshire in 2010. Repeals have since been enacted in Alaska, Colorado, Illinois, Indiana, Kansas, Louisiana, Maine, Michigan, Missouri, Montana, Nevada, Ohio, Oklahoma, Tennessee, Texas, Virginia, Washington and Wisconsin.
Knife Rights is America's grassroots knife owners' organization; leading the fight to
Rewrite Knife Law in America™ and forging a Sharper Future for all Americans™. Knife Rights efforts have resulted in 39 bills enacted repealing knife bans in 25 states and over 150 cities and towns since 2010.