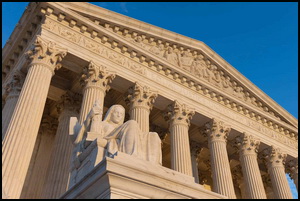 Plaintiffs' petition for Writ of Certiorari to the Supreme Court of the United States in Knife Rights' nearly eight-year-old civil rights lawsuit over New York City's persecution of pocket knife owners was filed today. The petition requests that the Supreme Court review the Second Circuit's decision against our plaintiffs in this case.
Knife Rights Chairman Doug Ritter said, "It is unfortunate that we are forced to appeal to the Supreme Court in order to gain justice for knife owners in, and travelers to, New York City. These tens of thousands of unconstitutional arrests and prosecutions are an affront to the most basic concept of justice and simple common sense. Even the New York legislature recognized this by twice overwhelmingly passing bills that would address the issue in New York City, only to be vetoed by Governor Cuomo supporting his cronies in the City. This ongoing persecution cannot stand."
While our lawsuit against New York City and District Attorney Cyrus Vance, Jr. centers on their abusive enforcement of New York State's gravity knife ban against owners of common pocket knives as being constitutionally void for vagueness, the focus of the petition is on the larger constitutional issues surrounding vagueness and how it is applied in the different circuits.
There is a stark split between the Fourth and Eighth Circuits, on the one hand, and the Second Circuit, which decided our case, on the other. The Supreme Court recently made an important change in how vagueness cases are to be heard in the federal courts. The Fourth and Eighth have explicitly recognized this change. The Second Circuit has refused to accept and apply this change, including in our case. In fact, in ruling against our plaintiffs, the Second Circuit explicitly denied there had been any change. The Second Circuit used its flawed approach as a gatekeeping mechanism to avoid a decision on the constitutional merits of the case.
The Second Circuit is steadfastly resisting the clear rulings of the Supreme Court and is therefore directly at odds with both the Court and the other Circuits that have addressed this issue. The Supreme Court should resolve this clear split in the Circuits and address the Second Circuit's overt defiance of Supreme Court precedent.
The petition explains why this case is important and worthy of the Court's attention. Should the Supreme Court decide to grant the Writ of Certiorari, the case could affect the implementation and enforcement of a wide spectrum of laws to persons throughout the U.S.
Over the next 30 days we can expect an opposition brief from the City and DA and a number of amicus curiae (friend of the court) briefs to be filed. There is no specific timetable for the Court to decide to grant the Writ of Certiorari, or to deny it.
Please consider a TAX-DEDUCTIBLE donation to Knife Rights to support our efforts at the Supreme Court.  Donate at:  www.kniferights.org/donate/foundation