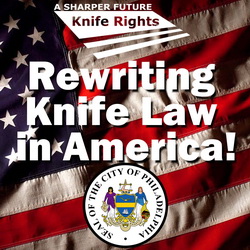 The defendants have made an offer of judgment to the plaintiffs in the case of Knife Rights, Inc. v. Outlaw, our federal lawsuit seeking to declare unconstitutional and enjoin Philadelphia's laws that ban the possession and carry of bladed arms in public. While the City has offered to agree to injunctive relief regarding the ordinance currently codified at Philadelphia Code 10-820, this offer of judgment does not fully resolve the Knife Rights case.
The Knife Rights complaint seeks, among other things, a declaratory judgment that the defendants' laws, policies, and enforcement practices prohibiting the carry of bladed arms in public for lawful purposes are unconstitutional, as well as nominal damages and attorney's fees and costs.
In addition to the carry ban under Philadelphia Code § 10-820, the Knife Rights parties challenged the ban under Code § 10-833, prohibiting carry of a knife within 100 feet of any elementary or secondary private school licensed by the Pennsylvania Department of Education or any elementary or secondary parochial school.
Said Knife Rights Chairman Doug Ritter, "The City's offer of judgment in our case is a sign that Philadelphia knows its laws are unconstitutional and wants to resolve the litigation soon, which we take in good faith to mean that the defendants may be open to settling this case before we take further legal action. However, this case is far from over. Knife Rights and our co-plaintiffs will continue to aggressively prosecute this case until we receive all of the relief sought in our complaint and individuals can possess and carry knifes throughout Philadelphia without fear of arrest or prosecution."
The City made a similar offer of judgment in another recently filed case, Gilson v. City of Philadelphia, which was today accepted by the plaintiffs in that case. However, no court has yet ordered an injunction, so individuals should be aware that the City may still be enforcing its ban under Code § 10-820 and is almost certainly enforcing its ban with respect to carry within 100 feet of schools under Code §10-833. As such, someone could still be arrested for possessing or carrying an otherwise legal knife while merely walking or driving by schools in the City.
Please support this Knife Rights' lawsuit with a tax-deductible donation to the Knife Rights Foundation at: www.KnifeRights.org/donate (select Knife Rights Foundation)
Knife Rights is America's grassroots knife owners' organization; leading the fight to Rewrite Knife Law in America™ and forging a Sharper Future for all Americans™. Knife Rights efforts have resulted in 44 bills enacted repealing knife bans in 27 states and over 175 cities and towns since 2010.