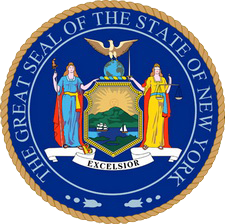 Longtime Knife Rights friend New York State Assembly Member Dan Quart and Senator Robert Jackson have introduced companion bills, A5944 and S3898, in another effort to address the bogus arrests and prosecutions on illegal Gravity Knife charges of knife owners carrying common folding knives in New York City. Governor Cuomo has twice vetoed similar bills.
A5944/S3898 would remove "gravity knife" from all New York criminal statutes, while leaving the existing definition of a Gravity Knife intact. While Cuomo admitted in one veto message that, "[New York City's] interpretation of the "gravity knife" has resulted in a definition that is both amorphous, subject to abuse and could include nearly any pocket knife," it didn't stop him from vetoing both previously overwhelmingly passed bills. Cuomo seems bound and determined to see these arrests continue, even in the face of recognition by virtually every legislator in Albany that these unjust arrests must stop.
Meanwhile, another longtime Knife Rights friend New York State Senator Diane Savino has once again introduced a "Bias Toward Closure" bill, S 3422, to address these bogus arrests. This is the exact same Knife Rights-requested bill that was passed overwhelmingly by the legislature in 2016 but was vetoed by Governor Cuomo.
S 3422 adds clarifying bias towards closure exception language to the definitions of a switchblade and a gravity knife in NY statutes. Common folding knives have this bias to keep them safely closed in a pocket, while true switchblades and gravity knives do not.
Knife Rights will monitor this legislation and let you know if you need you to act to support this bill.
Meanwhile, as noted above plaintiffs' petition for Writ of Certiorari to the Supreme Court of the United States is moving through the process at the Court. This Knife Rights case also aims to stop the persecution of knife owners in New York City.