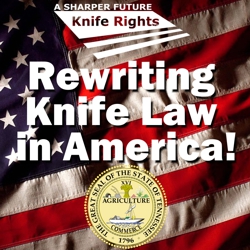 Since 2013 Knife Rights has worked to Rewrite Knife Law in Tennessee starting with our signature Knife Law Preemption. In 2014 we worked with our legislative friends and Tennessee Sheriffs to repeal the state's ban on switchblade (automatic) knives and carry of knives with blades over 4 inches.
Yesterday, Governor Bill Lee signed Knife Rights supported SB 172 that repealed the ban on carry of pocket knives by adults voting on school grounds on an election day. At this point, Tennessee is one of the most "knife friendly" states in country.
We sincerely appreciate sponsor Senator Joey Hensley's efforts to get this commonsense knife carry reform bill passed and we thank Gov. Lee for singing SB 172.
NOTE: This bill does not become effective until July 1st.
Knife Rights is America's grassroots knife owners' organization; leading the fight to Rewrite Knife Law in America™ and forging a Sharper Future for all Americans™. Knife Rights efforts have resulted in 43 bills repealing knife bans in 27 states and over 150 cities and towns since 2010.