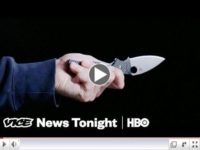 VICE News Tonight on HBO reports on Knife Rights, focusing on its fight against New York City's abuse of the state gravity knife law to arrest and prosecute thousands of people for carrying a common folding knife. (Note: Knife Rights' lawsuit against NYC & DA Vance began back in 2011. There are a few other unfortunate technical errors in the video, but by and large it is a positive video about our efforts)
I would especially like to thank Brady Miller of Monkey Edge and Journeyman Bladesmith Mike Tyre of Mike Tyre Custom Knives. They graciously opened up their shops to the VICE News crew on very short notice. They didn't get near the credit they deserve once the piece was edited down, but they played an important role and we sincerely appreciate their help.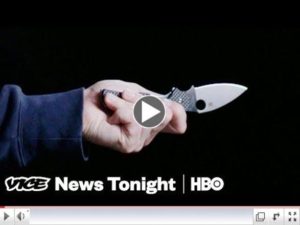 Knife Rights' record of 28 bills repealing knife bans at the state and local levels in 20 states in the past 8 years is unrivaled. With your support, Knife Rights is rewriting knife law in America™.
Become a Member   or   Donate to support Knife Rights!