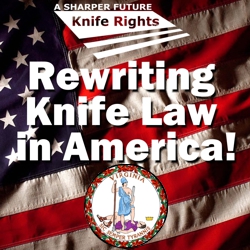 Knife Rights' Virginia Switchblade Ban Repeal Bill, SB 758, previously passed by the Senate unanimously, has now been passed by the House 96-3. Knife Rights' record of bipartisan support for our non-partisan campaign to end irrational restrictions on knives continues to produce results. Now, it's up to the Governor.
Our sincere thanks and congratulations to sponsor Senator Todd Pillion for his efforts that have resulted in passage of SB 758.
Knife Rights had led the effort to repeal switchblade bans or restrictions in 18 states, starting with New Hampshire in 2010. Repeals have since been enacted in Alaska, Colorado, Illinois, Indiana, Kansas, Louisiana, Maine, Michigan, Missouri, Montana, Nevada, Ohio, Oklahoma, Tennessee, Texas, Washington and Wisconsin.
Altogether, Knife Rights' efforts have resulted in 34 bills enacted repealing knife bans in 23 states and over 150 cities and towns since 2010.