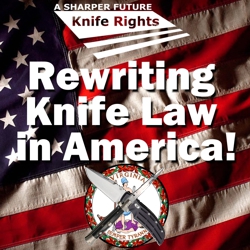 Virginia Governor Glenn Youngkin yesterday evening signed HB 2298 that removes switchblades from the list of weapons that cannot be carried concealed in the state.
NOTE: Repeal does not become effective until July 1st. Until that date, concealed carry of automatic knives remains illegal in Virginia.
We sincerely appreciate Delegate Lee Ware for sponsoring this bill. We also must acknowledge the support for this effort from our good friends at the Virginia Citizens Defense League and especially, President Philip Van Cleave. Knife Rights will continue to work with our friends in Virginia to remove all knife restrictions in the future.
As noted previously, the bill was amended to add "stiletto" to the list of items that cannot be carried concealed. This is essentially superfluous because prior court decisions in Virginia have held that a stiletto and dagger are "of like kind" to a "dirk," which has long been prohibited from concealed carry. As such, take note that dirks, stilettos and daggers are already prohibited, and remain prohibited, from concealed carry in Virginia.
Our repeal last year of Virginia's ban on switchblades (automatic) knives did not include repeal of the ban on concealed carry. This bill takes care of that.
Knife Rights is America's grassroots knife owners' organization; leading the fight to Rewrite Knife Law in America™ and forging a Sharper Future for all Americans™. Knife Rights efforts have resulted in 41 bills enacted repealing knife bans in 26 states and over 150 cities and towns since 2010.