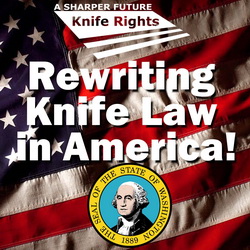 Knife Rights' bill to repeal Washington's civilian ban on "spring blade" (automatic) knives, HB 1224, has been reintroduced.
In 2012 the law was changed to allow civilian possession and carry of assisted-opening knives and the manufacture and distribution of automatic knives and expanded possession and carry to first responders and military members. For the past decade we have worked to eliminate the remaining ban on "spring blade" knives, getting very close on occasion, but not yet done. HB 1224 continues our fight to repeal this irrational ban.
Knife Rights will let you know when it is time to contact your legislators to support HB 1224.
Knife Rights is America's grassroots knife owners' organization; leading the fight to Rewrite Knife Law in America™ and forging a Sharper Future for all Americans™. Knife Rights efforts have resulted in 34 bills enacted repealing knife bans in 23 states and over 150 cities and towns since 2010.