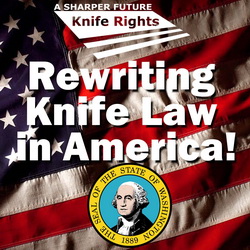 Unfortunately, despite thousands of emails sent via Knife Rights' Legislative Action Center to Chairman Hansen and committee members, the clock has run out on the bipartisan Washington "Spring Blade" Ban Repeal bill, HB 1224. The House Civil Rights & Judiciary Committee didn't hear the bill before deadline on Feb. 15th and as a result it is dead for this year.
This means that Washingtonians must still live with an archaic ban making possession of simple automatic knives illegal while the residents of 44 other states have no such burden, including residents of both its neighbors. Seventeen of those states have repealed their switchblade bans since 2010 due to Knife Rights' efforts.
Sometimes those repeals have taken years of effort. Knife Rights never gives up. We will be back next year to take another run at Washington's irrational "spring blade" ban. We sincerely appreciate your support and especially those of you who took the time to use our Legislative Action Center to send emails this past week.
HB 1224 would have repealed the ban on sales and civilian possession of "spring blade" (automatic) knives, as well as specifically excluded them from the definition of "dangerous weapon."
This bill passed the Senate in 2019 and 2020 by a vote of 46-1 and was previously voted out of this same House committee with a "do pass" recommendation in 2019 (10-2) and 2020 (12-3). It is way past time to repeal this archaic knife ban.
Knife Rights is America's grassroots knife owners' organization; leading the fight to Rewrite Knife Law in America™ and forging a Sharper Future for all Americans™. Knife Rights efforts have resulted in 33 bills enacted repealing knife bans in 23 states and over 100 cities and towns since 2010.