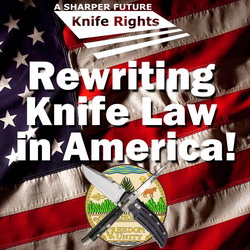 Who gets arrested when the state of Vermont tries to sell an illegal switchblade? The answer is…nobody. But, this is just too damn rich to ignore and perfectly illustrates how idiotic is Vermont's switchblade length restriction. For years we have been working with our good friend, Vermont Rep. Pat Brennan, to repeal the state's irrational under 3-inch length limit for switchblade (automatic) knives, including this year's HB13 bill. Even more outrageous is that the ban on switchblades 3-inches and over is the ONLY restriction on knives in the state! Every other knife you might want to own or carry is perfectly legal in Vermont!
Rep. Brennan said, "For the last several years I have introduced legislation that would repeal Vermont's antiquated switchblade law. This bill has been a bi-partisan effort to allow hunters, fishers and tradespeople to use the tools of their trade, just like any other knife. Now, given the fact that the state of Vermont is offering one of these working person's knives in their state sponsored surplus sale, it seems a most appropriate time to finally get this vital, commonsense legislation done."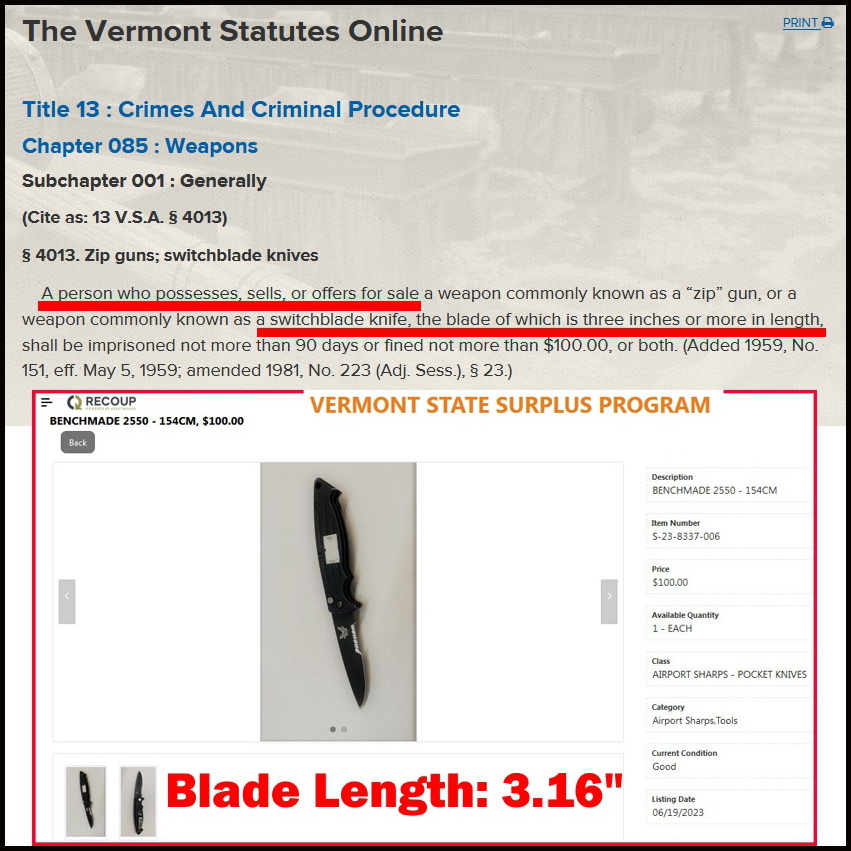 Earlier this week a Knife Rights member in Vermont contacted us after seeing a listing for a "Benchmade 2550" Mini-Reflex automatic knife posted in the unrestricted section of the Vermont Surplus Program's Recoup website (which also means it was offered for sale in their store in Waterbury, Vermont). The listing, originally posted on June 19th, was marked "This item is no longer available" the day after we were advised of it, but we have the embarrassing screen grabs.
The Mini-Reflex has a blade length of 3.16-inches, clearly illegal to possess or to offer for sale in Vermont. Title 13, Chapter 085, Subchapter 001, §4013 states, "A person who possesses, sells, or offers for sale a weapon commonly known…as a switchblade knife, the blade of which is three inches or more in length, shall be imprisoned not more than 90 days or fined not more than $100.00, or both."
HB-13 is carried over to next year and Knife Rights and Rep. Brennan will continue their efforts to repeal Vermont's length limit. Hopefully, this embarrassingly illegal faux pas will help to make the point that it's past time to get rid of this outrageously archaic statute.
"When you see something, say something." Bringing to our attention these sorts of occurrences is appreciated. It helps point out the foolishness of knife restrictions and that can be very helpful when we are talking with legislators.
Knife Rights is America's grassroots knife owners' organization; leading the fight to Rewrite Knife Law in America™ and forging a Sharper Future for all Americans™. Knife Rights efforts have resulted in 44 bills enacted repealing knife bans in 28 states and over 175 cities and towns since 2010.