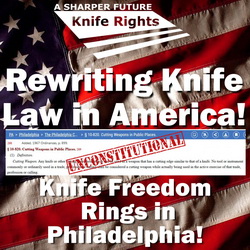 Second Amendment Knife Freedom Rings in Philadelphia!
In 2014 Knife Rights published a list of the Ten Worst Anti-Knife Cities in America. At that time, New York City was number one, but we fixed New York City's "gravity knife arrests" problem in 2019, moving Philadelphia up to the number one Worst Anti-Knife City spot. Now Knife Rights has accepted Philadelphia's offer of judgment in Knife Rights, Inc. v. Outlaw, our federal Second Amendment lawsuit that sought to declare unconstitutional and enjoin Philadelphia's laws that ban the possession and carry of any bladed arms (knives) in public. The City also agreed to pay $10,000 to cover Knife Rights' legal expenses.
Knife Rights Chairman, Doug Ritter said, "we are excited that after the Supreme Court precedent in Bruen, Philadelphia has recognized that its ban on carry and use of knives in public could not pass constitutional muster. As the premier advocacy organization for the right to possess and carry knives, Knife Rights looks forward to striking down all unconstitutional knife bans throughout the United States."
Bottom line is that with the judge's order issued Monday, it is no longer illegal to possess or carry a knife in public in Philadelphia. Please note that you still cannot carry any knife that that is still illegal in the state, including daggers and similar knives. Unfortunately, due to Philadelphia's ordinance §10-810(5) "No person shall sell, offer for sale or carry any knife with a blade which is released by a spring mechanism including knives known as "switchblades" in Philadelphia despite that autos (switchblades) became legal in Pennsylvania on January 2nd this year — also due to Knife Right's efforts. This ordinance might also be interpr3eted to cover assisted opener knives. We are continuing to evaluate our legal options to free all the knives in Philadelphia and throughout the United States.
Ritter noted, "we sincerely appreciate our individual plaintiffs in this case, Knife Rights members Keith Fetsurka and Scott Mele. It takes courage to step up and be plaintiffs in Second Amendment cases and without plaintiffs, there's no case. We cannot thank them enough."
Attorney John Dillon said, "It is refreshing when the government, even local government, acknowledges reality and admits they cannot prohibit arms in common use. We will continue our efforts to ensure that cities and states throughout the United States come to the same conclusion. Our rights are not up for debate."
"We're thrilled with today's outcome," said William Sack, local counsel on the matter. "The City did the right thing by promptly agreeing to a settlement instead of wasting the taxpayers' money on needless litigation."
In its 2022 NYSRPA v. Bruen decision, the Supreme Court emphasized that the Second Amendment right to keep and bear arms, applied against states and local governments through the Fourteenth Amendment, is not "a second-class right, subject to an entirely different body of rules than the other Bill of Rights guarantees." In 2021, Knife Rights filed an important amicus (friend of the court) brief in the Supreme Court that was cited in the Bruen decision.
Knife Rights is America's grassroots knife owners' organization; Rewriting Knife Law in America™ and forging a Sharper Future for all Americans™. Knife Rights efforts have resulted in 44 bills repealing knife bans in 28 states and over 175 cities and towns since 2010.