Donate to Win
21st-Tec Bellator in .338 Lapua Magnum PLUS Thunder Beast Arms Corp 338 ULTRA Suppressor (BA) GEN2 PLUS Powered By Silencer Shop Package PLUS Crimson Trace Hardline Pro 6-24x50mm Tactical Rifle Scope PLUS Wheeler 2 Piece Picatinny Scope Rings
Total Retail Value:
$8,434.98
Donated By:
21st-Tec, Thunder Beast Arms Co., Crimson Trace, Silencer Shop and Wheeler
**** Chosen by Winner:
Zach K.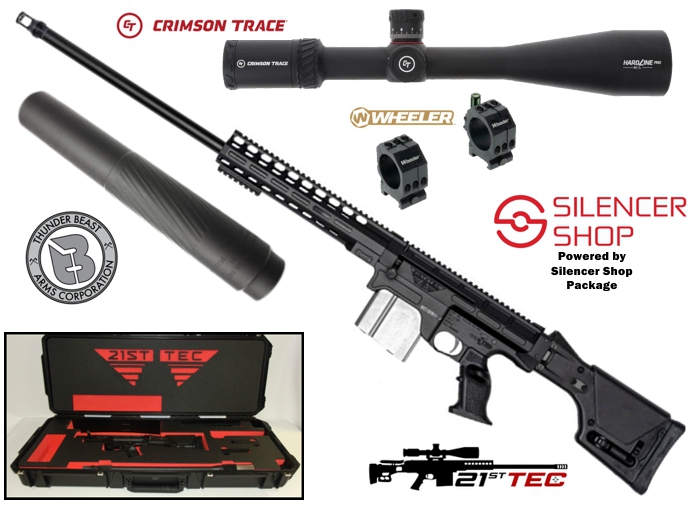 NOTE: Firearm and optional suppressor will not be shipped directly to winner, but rather to Federal Firearms Licensee ("FFL") specified by winner (or selected by Knife Rights or Hill Country Class 3 LLC d.b.a. Silencer Shop (Silencer Shop), in Knife Rights' and Silencer Shop's sole discretion). Winner can only take possession of firearm and suppressor from the FFL(s). Winner must comply with all applicable legal requirements prior to taking possession of firearm or suppressor. Winner is responsible for shipping charge ($40 Pistol/$70 Rifle Caliber) and any fees charged by receiving FFL. Click for complete rules.
The 21st-Tec Bellator™ in .338 Lapua Magnum w/ Magpul PRS Stock ($5,000) has a forward located left side bolt handle and right side ejection port. Continues MIL-STD 1913 flat rail with M-LOK mounting points for hardware. Designed for Precision Long Range sub-MOA accuracy for shooting enthusiasts, competitive shooters, hunters, police and military applications.
Button Rifled 416R Stainless Steel Barrel

2-Stage Match Trigger 4.5 lbs  (AR15)

Ambidextrous Safety Selector (AR15)

Caliber conversion between 338 Lapua Mag and 300 Norma Mag is done by a simple barrel swap, takes same bolt and magazine

Conversion from 338 Lapua Mag to .308/6.5Creedmoor is done by switching out the barrel, bolt and magazine well

Hard Coat Anodized Black or FDE  (This donation rifle is Black)


10 Round detachable box magazine for 338 Lapua

Available with fully adjustable folding or non-folding stock (This donation rifle has a non-folding Magpul PRS stock)


All Rifles come in custom cut high density foam Hard case with wheels.

Made in the USA of all USA sourced materials
Specs
338 Lapua Magnum
Bolt Action
Barrel Length: 024″ (609 mm)
Twist Rate: 1:9.4
Overall Length: 47.5″ (1206 mm)
Weight: 11.4 lbs (5.39 kg)
Magazine: 10
Rail Length: 22.5″ (571.5 mm)
Adjustable Magpul PRS stock
Thunder Beast Arms Co. 338 ULTRA Suppressor (BA) [GEN2] ($1930.00) The second-generation 338 ULTRA ("Gen2") superseded the original model January 2022. The Gen2 is quieter than the original version by about 3 dB. The new 338 ULTRA is the quietest .338 caliber suppressor on the market today for everything up to .338 Lapua Magnum, including your 6's, 6.5's, 7's, and .30's. It offers class leading suppression levels with extreme light weight.
The 338 ULTRA has the original TBAC large Brake Attach (BA) brake attachment, the same mount as the original 338 ULTRA, and older 30BA series. This design is backwards compatible with all 338BA and 30BA brakes. It can be used on our smaller CB brake mounts with the addition of a CB2BA adapter.
The ULTRA Gen2 series represents a revolutionary improvement in titanium precision rifle suppressors. We took everything we've learned over the last decade building the best precision rifle suppressors in the world and put it into the ULTRA design. The ULTRA series offers unprecedented light weight and class-leading suppression levels.
Like the original, the Gen2 ULTRA is all-titanium and is fully welded. The Gen2 is now a "tubeless" design, with the baffles joined directly with no separate tube. This material and construction provide a great strength to weight ratio. It can take whatever your precision rifle can dish out.
The ULTRA Gen2 baffle stack was completely redesigned, but retains the principles that made the original ULTRA (and 30P-1 stack before that) such a great precision and long-range suppressor.
Features
Length BA version: 10.4 inches
Diameter body 1.8 inches; collar 1.85 inches
Weight 17.2 ounces (BA)
Conical shoulder surface on mount
100% titanium construction
"Tubeless" construction
360-degree fully-welded baffle stack
Helical Baffle Technology
Caliber .338 caliber, up to .338 Lapua Magnum or .338 RUM
Brake Threads 9/16-24, 9/16-28, 5/8-24, 3/4-20, 3/4-24, 3/4-28, M18x1.0, M18x1.5
Brake Material Heat-treated 17-4 stainless
Brake Finish Ionbond DLC
Finish Black CeraKote
One BA brake included.
Powered By Silencer Shop Package (Retail Value $335): If you choose to accept the suppressor prize, but are new to the suppressor world, DON'T WORRY! Silencer Shop is powering every step of the transaction. All required paperwork and fees will be handled for the recipient utilizing the nationwide Powered By Silencer Shop network of dealers. Silencer Shop is including the following*:
FREE Single Shot Trust
FREE Tax Stamp Payment
FREE Transfer to the Powered By Silencer Shop Dealer of Your Choice
* Additional rules apply for suppressors. Click for complete rules.
Crimson Trace Hardline Pro 6-16x50 Tactical Rifle Scope ($1,099.99) The Crimson Trace Hardline Pro optics are designed with the experienced tactical and target shooter in mind and have been purposefully built from the ground up. The line features aerospace grade 30mm tubes with First Focal Plane (FFP) options. The line offers short, medium and long-range optics with a variety of custom reticles. They are fully multi-coated, nitrogen purged, shock resistant, and ready for whatever elements they encounter. All Crimson Trace® scopes are covered under the LIFETIME protection guaranteed warranty and backed by our award-winning customer service team.

Specs
Magnification 6-24x
Reticle Illuminated MR1-MIL
Focal Plane 1st
Material aerospace aluminum
Eye Relief (in) 3.6~4 in
Objective Lens Diameter 50
Tube Diameter 30mm
Click Value 0.1 MIL
Turrets Exposed
Illumination Yes
Light Transmittance (%) 90
Dimensions (W x H x L) 3.7 in x 3.1 in x 15.6 in
Product Weight (oz) 26.46 oz
Lens Coating green multi coated
Rear Mounting Length (in) 2.1
Front Mounting Length (in) 2.7
Windage Range 20 MIL
Elevation Range 20 MIL
Side Parallax Adjustable
Zero Stop Yes
FOV Maximum 17.9 ft
FOV Minimum 4.7 ft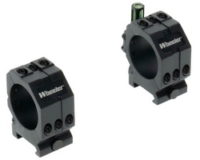 Wheeler 2 Piece Picatinny Scope Rings ($69.99) Securely mount your scope to any picatinny rail. The 6-screw design provides increased clamping force to keep the optic in place during recoil and the integrated articulating anti-cant mechanism helps keep your gun level for your long range shots. Centerline height from top of rail: Low - 0.775 in Medium - 0.950 in High - 1.100 in