Donate to Win
Aero Precision Unique "We the People" AR15 M4E1 5.56 NATO  PLUS Crimson Trace CTS-1400 Electronic Open Reflex Sight PLUS Crimson Trace CWL-202 Tactical Light PLUS ProMag 65 Rd. Drum Magazine 
Total Retail Value:
$2,310.00
Donated By:
Aero Precision, Crimson Trace and ProMag
**** Chosen by Winner:
Brian S.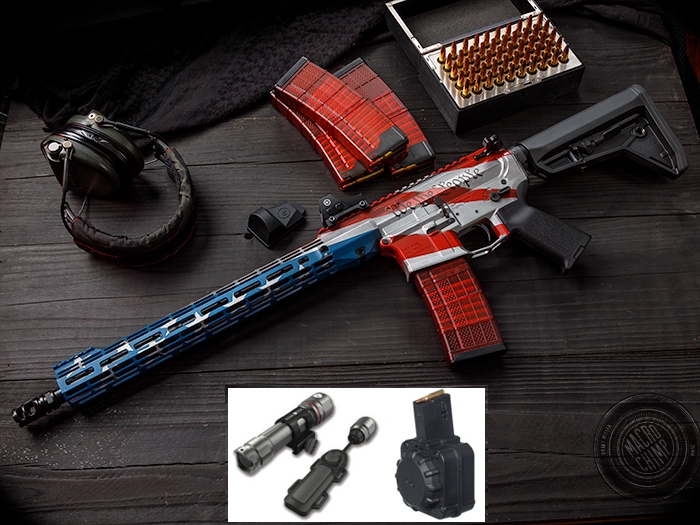 (Magazines, ammunition and muffs NOT included)
NOTE: Firearm will not be shipped directly to winner, but rather to Federal Firearms Licensee ("FFL") specified by winner (or selected by Knife Rights in Knife Rights' sole discretion). Winner can only take possession of firearm from the FFL(s). Winner must comply with all applicable legal requirements prior to taking possession of firearm. Winner is responsible for $70 shipping charge and any fees charged by receiving FFL. Click for complete rules.
The Aero Precision M4E1 16" 5.56 Mid-length Complete Rifle ($1,600) is built on the new M4E1 Threaded Series Upper Receiver. This upper combined with the new ATLAS S-ONE handguard mounting platform provides the shooter a light-weight, free-floated, rigid design resulting in superior performance and accuracy.

This special rifle is built with a unique Red, Silver & Blue  "We the People" ATLAS S-ONE handguard (15") and upper.

All complete rifles are assembled by our professional gunsmiths and are tested prior to leaving our facility.

The CTS-1400 Electronic Sight ($499) is a Compact Open Reflex Sight for Rifles and Shotguns. Featuring a 3.25 MOA round aiming dot and a wide field of view (FOV), the CTS-1400 will elevate your long gun's performance instantly. Easily user-installed the CTS-1200 includes a low-profile, snag-free M1913 Picatinny mount. This open reflex sight is covered by our 3 Year Protection Guaranteed warranty and our Free Batteries For Life program.

3.25 MOA round aiming dot
Includes low-profile, snag-free M1913 Picatinny mount
Externally accessible battery compartment
Wide field of view (FOV) and superior glass quality
Intelligent electronics maximize battery life when not in use
Free Batteries For Life
3 Year Limited Warranty

The Crimson Trace CWL-202 ($99.99) is a powerful rail-attached tactical light for Picatinny rail-equipped long guns and provides up to 900 Lumens of white light. Experience the power that effective illumination can provide. Introducing Crimson Trace Tactical Lights, a best-in-class family of tactical lighting products for rail-adapted long guns, backed by the Crimson Trace reputation you trust.

The ProMag AR-15 5.56mm (65) Rd - Black Polymer Drum Magazine ($111.49) fits AR-15 5.56mm rifles. It features over molded stamped steel feed lips and magazine catch, magazine body constructed of a proprietary DuPont™ Zytel® based polymer, injection molded follower, magazine spring formed from heat treated chrome silicon wire and is made in the USA.

Rifle Specifications


Upper: M4E1 Threaded Upper Receiver
Barrel: 16" 5.56, Mid-Length, 1:7 Twist, 4150 Chrome Moly Vanadium, QPQ corrosion resistant finish
Handguard: 15" ATLAS S-ONE M-LOK handguard
Gas System: Low Profile Gas Block and Carbine-Length Gas Tube
Bolt Carrier Group: M16 Cut, 8620 Steel, Black Nitride Finish, Properly Staked
Muzzle Device: VG6 Gamma 556

Lower: M4E1 Lower Receiver with flared magwell, integrated trigger guard, threaded bolt catch pin, tension screw
Lower Parts Kit: M4E1 MOE LPK Minus Fire Control Group
Buffer Kit: Standard Mil-Spec AR15/M4 Buffer Kit
Stock: Magpul MOE SL
Grip: Magpul MOE Grip
CWL-202 Specifications

Instant Activation™: Tap-On / Tap-Off

Remote on / off pad with cord, hook & loop mounting straps and doublestick tape

900 Lumen LED white light

High output Cree® XPL LED

Material: Anodized Aluminum

M1913 Picatinny and Keymod®/M-LOK® attachments included

Waterproof up to 1 meter

Impact resistance up to 1 meter

Modes: high, low, strobe, momentary

Battery Type: Two CR123 Lithium Batteries

Battery life: 1 hr 25 min 900 Lumens

Length: 5.3"

Weight: 4.9 oz with batteries installed

May be used as a handheld flashlight