Donate to Win
Aero Precision AR15 M4E1 5.56 NATO Limited Edition "E Pluribus Unum" Cerekote (by Nevada Cerekote) PLUS Crimson Trace CTL-5108 5-Series Tactical Riflescope PLUS Wheeler 1-Piece Cantilever Scope Mount PLUS Crimson Trace CWL-102 Tactical Light PLUS BOG Carbon Fiber DeathGrip Tripod
Total Retail Value:
$3,519.96
Donated By:
Aero Precision and American Outdoor Brands' Crimson Trace, Wheeler & BOG
**** Chosen by Winner:
Kurt B.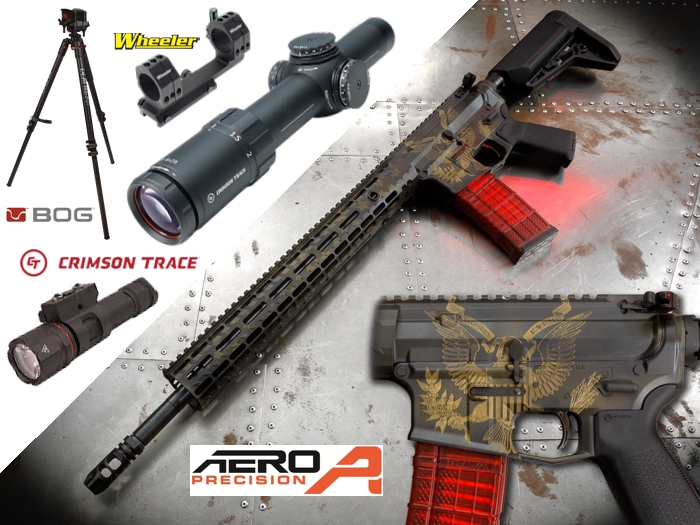 NOTE: Firearm will not be shipped directly to winner, but rather to Federal Firearms Licensee ("FFL") specified by winner (or selected by Knife Rights in Knife Rights' sole discretion). Winner can only take possession of firearm from the FFL. Winner must comply with all applicable legal requirements prior to taking possession of firearm. Winner is responsible for a shipping charge ($40 Pistol Caliber Pistols/$70 Rifle Caliber Pistols and Long Guns) and any fees charged by receiving FFL. Optics and Accessories will ship separately, not via the FFL. Click for complete rules.
The Aero Precision M4E1 18" 5.56 Mid-length Complete Rifle ($1,600) is built on the new M4E1 Enhanced Upper Receiver. This upper combined with an 15" Enhanced handguard mounting platform provides the shooter a light-weight, free-floated, rigid design resulting in superior performance and accuracy. All complete rifles are assembled by Aero Precision's professional gunsmiths and are tested prior to leaving their facility.


Specifications


Upper: M4E1 Enhanced Upper Receiver
Barrel: 18" 5.56, Mid-Length, 1:7 Twist, 4150 Chrome Moly Vanadium, QPQ corrosion resistant finish
Handguard: 15" M-Lok Handguard.

Gas System: Low Profile Gas Block and Carbine-Length Gas Tube
Bolt Carrier Group: M16 Cut, 8620 Steel, Black Nitride Finish, Properly Staked
Muzzle Device: VG6 Epsilon 5.56

Lower: M4E1 Lower Receiver with flared magwell, integrated trigger guard, threaded bolt catch pin, tension screw
Lower Parts Kit: M4E1 MOE LPK Minus Fire Control Group
Buffer Kit: Standard Mil-Spec AR15/M4 Buffer Kit
Stock: Magpul MOE SL-S
Grip: Magpul MOE Grip

This special rifle is built with Aero Precision's Limited Edition "E Pluribus Unum" Cerekote (by Nevada Cerekote)  Enhanced handguard (15") and upper. (Red magazine shown not included.)


The Crimson Trace CTL-5108 5-Series Tactical Riflescope 1-8x28mm ($1,499.99) is a feature rich 1-8x28mm premium short-range rifle scope that has been purposefully built from the ground up. The scopes First Focal Plane (FFP) and impressive Japanese ED glass clarity makes for an unparalleled shooting experience. The custom designed SR1-MIL advanced reticle is fully illuminated and offers a quick acquisition outer ring that vanishes when increasing magnification. The capped .2 MIL tactical turrets provide a precise and rugged feel when dialing for the most accurate of shots. The entire Crimson Trace Scope Line offers EZ Mount Leveling Indicators for quick and exact mounting and red alignment ring for proper eye placement. All Crimson Trace Scopes are part of the FREE Batteries For Life program and are covered under the Lifetime Protection Guaranteed Warranty.

POWER: The 1-8x28mm scope makes objects seem one to eight times closer than with the naked eye, featuring a 28mm Objective Lens.

FIRST FOCAL PLANE (FFP): Glass etched, SR1-MIL Advanced Illuminated reticle sits in front of the magnification mechanism, scaling to provide correct ballistic hold points at any range. This feature allows the reticle to be sighted in at any part of the magnification scale and precise range measurments. Numerous windage holding points allow for on the fly adjustments during ever-changing environmental conditions. Premium, Fully Multi-Coated ED Glass leads to enhanced image quality across the visual spectrum.

EXPOSED TURRETS with SR1-MIL ADVANCED RETICLE

QUALITY MANUFACTURING: Single piece 34mm Anodized Aluminum main tube is constructed to handle the most demanding environments. Waterproof and Fog proof with coated lenses to protect from scratches, oil, and debris. Nitrogen purged and O-Ring sealed.

WARRANTY: Crimson Trace's Lifetime Protection Guaranteed Warranty and FREE Batteries for Life guarantees a lifetime of performance.

CLICK for CTL-5108 Technical Data Sheet

Wheeler 1-Piece Cantilever Scope Mount ($76.99) is designed specifically for use with the AR-15 platform. This 1-Piece scope mount allows the optic to be mounted farther forward on the receiver to provide correct eye relief. The 6-screw design provides increased clamping force to keep the optic in place during recoil and the integrated articulating anti-cant mechanism helps keep the rifle level for your long distance shots. Centerline height from top of rail: 1.400 in.

Crimson Trace CWL-102 Tactical Light For Rail-Equipped Long Guns ($84.99) is a powerful rail-attached tactical light for Picatinny rail-equipped long guns and provides up to 500 Lumens of white light. Experience the power that effective illumination can provide. Introducing Crimson Trace Tactical Lights, a best-in-class family of tactical lighting products for rail-adapted long guns, backed by the Crimson Trace reputation you trust.

BOG DeathGrip Carbon Fiber Tripod ($257.99) is engineered to be the most stable precision tripod on the market. Its legs have unmatched durability for hunt after hunt. The patented clamp secures any weapon, hands-free, freeing the BOG™ hunter to glass or call on the hunt with ease. Take on your UNKNOWN season after season with the DeathGrip