Donate to Win
TOPS Knives TEX CREEK XL autographed by Congressman Allen West (U.S. Army LTC retired) PLUS another (unsigned) TEX CREEK XL to use! One for SHOW, One for GO!
Total Retail Value:
$410.00
Autograph PRICELESS!
Donated By:
Tops Knives
**** Chosen by Winner:
Garner F.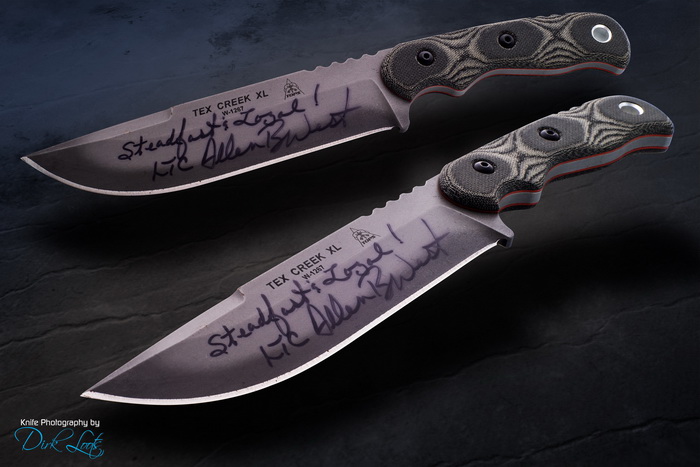 Supporting Knife Rights and the Second Front in Defense of the Second Amendment


Col. Allen West

The Tex Creek Hunter XL ($205) is a fine example of a high quality, good looking "working knife."
Designer Leo Espinoza created a new look on this specific blade. At TOPS, we call it "Black River Wash." The uncoated finish clearly shows the heat treat line along the blade edge. The darkened-steel pattern is unique on every blade. This creates that "broken in, rustic look" and feels just like an old pair of comfortable boots. The darkened Micarta scales are screwed onto the handle and a large cord holder is accentuated at the back of the handle. The handles are designed and built for a positive grip and for extended periods of use. A simple and useable design is reinforced by a sturdy 3/16" thick blade and full tang handle.
"This is a knife that performs with excellence in the field and looks and feels like an old trusted friend, anywhere that you go."
Blade Style: Drop Point, full flat grind
Overall Length: 11.125"
Blade length: 6.125"
Steel: 1095 Carbon Steel
Finish: Black River Wash
Weight (knife only): 9.5 ounces
Handle: Black Canvas Micarta
Sheath: Leather
Handle: Removable lined Micarta handle slabs
Sheath: Multi-carry Injection Molded