Donate to Win
Personally Autographed Copy of "Crime Proof" by Gun for Hire's Anthony Colandro PLUS KA-BAR Becker BK7 Combat Utility autographed by Anthony Colandro PLUS another KA-BAR Becker BK7 Combat Utility to use! One for SHOW, One for GO!
Total Retail Value:
$425.24
Autograph PRICELESS!
Donated By:
KA-BAR Knives & Anthony Colandro
**** Chosen by Winner:
Jonathan Y.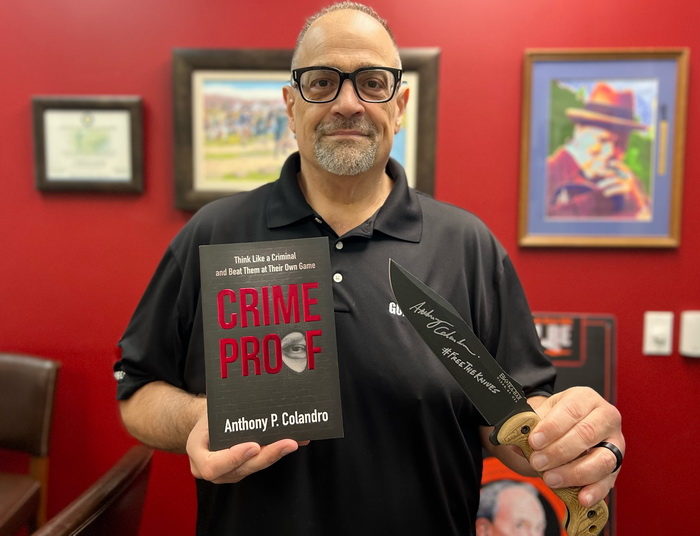 Anthony Colandro: Host of hit radio show "Gun For Hire Radio" – over one million listeners nationwide. Member, NRA Board of Directors and Association of New Jersey Rifle and Pistol Clubs Board of Directors. NRA Master Training Counselor (one of only 60 in U.S.). Aggressive, outspoken defender of Second Amendment rights for over 30 years in battleground state of NJ, making numerous TV and radio appearances. Strong advocate for Right to Carry. NRA Election Volunteer Coordinator. Supports NRA competitive activities, Women on Target, Eddie Eagle, NRA Civil Rights Defense Fund. 25+ year NRA Certified Instructor. NRA Law Enforcement Instructor. NRA Ring of Freedom and Heritage Society Member. Whittington Center Trailblazer #353. Founder of Gun For Hire, NJ's leading firearms training facility and indoor range. Author of Crime Proof: Think Like a Criminal and Beat Them at Their own Game.

Anthony will personally autograph a copy of "Crime Proof" for the winner.
---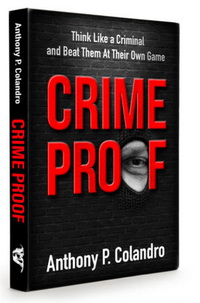 Crime Proof: Think Like a Criminal and Beat Them at Their own Game ($18.76): is a book for anyone that is serious about personal safety and responsibility. This is not your dad's book on guns and awareness, but a fresh perspective on dealing with the dangers of the 21st century. Master Firearms Instructor Anthony Colandro covers important topics such as hardening yourself and your family from the criminal element, to what happens when a violent encounter occurs. Crime Proof helps instill the mindset you need to survive!
Other important subjects covered include: Safety outside the home, travel safety, sending your kids off to college, defensive mindset, non-lethal weapons, natural disasters, mass-casualty events, firearm selection and use, and very important information on what to do when you're dealing with the police. The book is also loaded with very important information on our digital world and delivers valuable information to keep you, your identity, and your children safe while navigating the great digital unknown.
Crime Proof is a complete cannon on giving yourself an edge and allows you to be armed with what you need in order to navigate a world of wolves as a sheep dog!
Anthony will personally autograph a copy of "Crime Proof" for the winner.
---
Ethan Becker is a man after our own heart. An avid outdoorsman who enjoys martial arts and hunting, Becker founded Becker Knife and Tool Corporation in the early 1980's to design the industrial-strength tactical and survival knives he'd always wanted for himself. What we love about Becker, other than his innovative designs, is that he spends so much time in the outdoors testing new equipment and designs. KA-BAR is proud to be the manufacturer of Becker Knife & Tool products - all brought up to date and approved by Becker himself.
KA-BAR Becker BK7 ($163.12) The ultimate BK&T all-purpose utility knife was designed specifically for soldiers and adventurers requiring a sturdy but lightweight combat knife that can stand up to hard use. MOLLE compatible heavy-duty polyester sheath included. Becker Knives "Work for a living". Note: Sheath sold with the Becker Combat Utility also accommodates the small, skeleton-handled knife #BK13 Remora.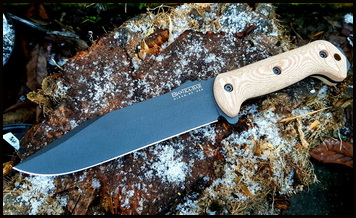 These Becker BK7s include KA-BAR Micarta® Becker Handle Sets ($49.50 each).

Specifications
Blade Length: 7" 1095 CroVan

Overall Length: 12.75"

Blade Thickness: 0.188"

Blade Coating: Black epoxy powder coat

Grind: High, flat saber grind

Handle Material: Full tang, Grivory

Sheath: Black Nylon w/ kydex insert

Weight: 12.9 oz.

Made in USA