Total Retail Value:
$457.90
Donated By:
American Outdoor Brands' Smith & Wesson
**** Chosen by Winner:
Mitch D.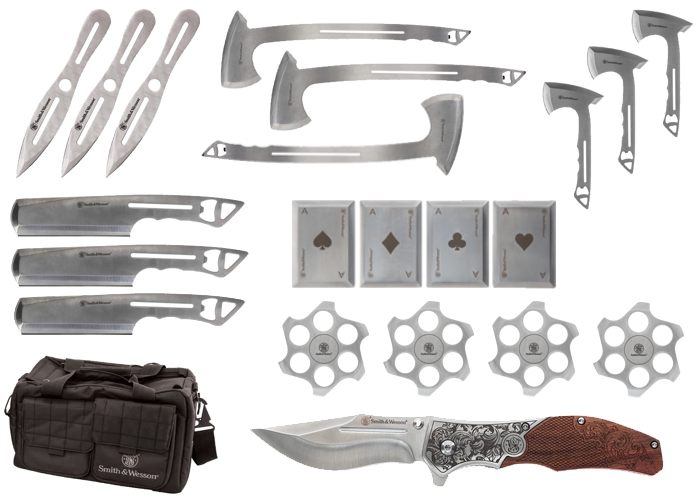 BULLSEYE 10" THROWING KNIVES, 3-PACK ($34.99) The Smith & Wesson® 3 pack 10" throwing knives have stainless-steel dual edged spear point blades. A polyester belt sheath is included.
BULLSEYE THROWING CLEAVER, 3-PACK ($49.99) We're taking throwing knives to the next level: with cleavers. These well-balanced stainless steel cleavers are well balanced and weighted for the idea turn so you can make sure your throws hit
BULLSEYE THROWING AXES, 3-PACK ($67.99) Three super sharp axes are better than one. Enjoy a fun night axe throwing with a built in bottle opener and premium steel construction. With perfectly balanced frames and a sharpened edge on 3 sides, you're bound to hit the bullseye every time.
3 x Bullseye® Large Throwing Axe ($49.99 ea = $149.97) Balanced stainless steel design with three beveled edges making it easier to find the target. Includes bottle opener and sheath.
Bullseye® Throwing Cylinders - 4 Pack ($34.99) Look no further than the Bullseye® Throwing Cylinders! This pack includes four stainless steel, perfectly sized throwing cylinders that are beveled on all sides to ensure they always find their target. Plus, the embroidered carrying case provides safe and easy transport. Whether you're throwing for fun or vying for the championship title, this is the perfect pack for you!
BULLSEYE THROWING CARDS, 4-PACK ($24.99) The new bullseye throwing cards from Smith & Wesson are a great addition to your throwing arsenal. Well balanced and weighted for throwing with pristine edges to make sure your throws stick, you'll have a blast flinging these cards on your homemade boards or at your local throwing range.
Unwavered™ ($39.99) Unwavering, just like the carrier. This classic knife stands steadfast and prepared for anything. With a modified drop point blade for vaersatile use, a spring assisted opening is made for quick and easy access, a liner lock for easy one-handed close, and an engraved handle, this knife is perfect for anyone who wants areliable and trustworthy blade.
Recruit Tactical Range Bag  ($54.99) Keep all your favorite gear organized and ready with the Recruit Tactical Range Bag. This heavy-duty carrying bag is designed with quality and durability in mind. It's built to hold up under the most extreme conditions, letting you have instant access to your stuff anywhere. The sturdy ballistic fabric, oversized zippers, and rubber foot skids on the bottom for extra protection will keep your gear protected.